Erik Escovedo, Decolonizing Place and Time
October 31 – December 7, 2022
Gallery Hours: Monday – Wednesday, 10 – 4 pm
Mt. San Jacinto College Art Gallery is pleased to present Erik Escovedo, Decolonizing Place and Time. This is a special solo exhibition that kicks off our Native American Heritage Month at MSJC. In this epic scale oil paintings Erik Escovedo appropriates images of Native American activists and personal family photos. In his work Escovedo is painting healing and honorific images that recognize the intergenerational trauma of his family experience as Native people. 
Erik is the Professor of American Indian Studies at Fresno City College. He holds an MFA and BA from Fresno State College of Art and Humanities. Erik Escovedo was born and raised in Fresno, California (Yokuts & Mono Traditional Land). His path to academic achievement was a meandering one, at the age of 30, he decided to give college another try and learn more about his ethnic background and enrolled in his first American Indian studies course. With that course, the pieces of his life, family history, profession and education came together to present a new focus within his educational goals. 
It was with this one American Indian studies course; Erik found purpose on campus and became inspired to join the college's Native American Inter-Tribal Student Association (NAISA). Erik soon became vice-president of NAISA and helped with planning/hosting student-led educational events and activists' demonstrations. It was at this time that Erik decided to pursue a double-major, combining American Indian studies with art. Continuing this exploration, Escovedo found he could use his art and ethnic studies education to better his community, both inside and outside educational institutions. An example of this community activism came to fruition with a commission from the ethnic studies department to design the Yokuts Plaza monument. Erik reached out to local traditional Native basket weavers to help design the image that would eventually sit on top of a large piece of granite sourced from the mountains of the Central Valley.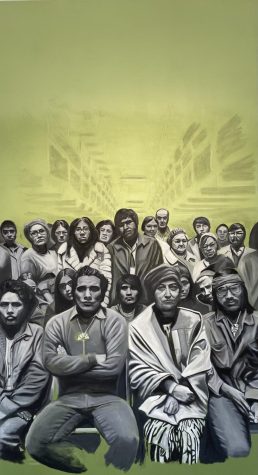 Erik later transferred to Fresno State in 2016. Two years later, he became the first student to earn his B.A. in American Indian studies with a special major combining Ethnic studies and Art. While in graduate school, Erik worked at Fresno State's Cross Cultural and Gender Center as the American Indian Programs and Services student lead. It was in this job that he began to educate not only the student population, but the faculty and staff. Erik helped plan and host several Native American events that tackled subjects like settler-colonialism, intergenerational trauma, cultural competency, neurodecolonization, indigenizing spaces, and intersectionality.
Gallery Hours: Monday – Wednesday, 10 – 4 pm
MSJC Art Gallery
1499 N State St. Building 1400 San Jacinto, CA 92583
Online gallery: www.MSJC.edu/artgallery Instagram: @msjc_art
Facebook: @MSJC.Art.Dept
Contact: [email protected]