The Void of Native American Cuisine in Culinary Arts
The holiday season signals an opportunity for family gatherings and feasts, and many will celebrate Thanksgiving during Native American Heritage Month. Ironically, Native American cuisine is woefully absent from the vast world of culinary arts. While the number of Native American restaurants is growing, there are relatively few in the entirety of the United States.
The reasons for such scarcity of Native American eateries are complex. In part, it is the result of a long history of violent cultural erasure.
"Lots of things are lost, the languages are lost. Once the languages are lost, then you lose the recipes. You lose the names of plants that you used to collect," said John Torres, professor of anthropology at Mt. San Jacinto College. "…part of it is just loss in general, in terms of loss of culture."
Torres is a member of the Navajo Nation, a reservation located in the four corners region of the Southwestern United States.
"A few years into my chef career, I just realized the complete absence of Indigenous foods"

-Sean Sherman
"I've been fortunate because the Navajo Nation is so big that, with roughly 250,000 people living on reservation, there are parts of the reservation you can go and you'll never hear English," said Torres. "Everybody speaks the native language. Everything is very traditional in a lot of ways, so I grew up with lots of traditional foods."
According to Torres, limited access to ingredients presents another hurdle to the availability of Native American cuisine. Acorns and mesquite flour, for example, can be difficult to find. Other ingredients, such as pine nuts and chia seeds, can be expensive to acquire.
In recent years, Native American chefs have worked to address the lack of Native American representation in the culinary world by reviving Native American food culture. 
"A few years into my chef career, I just realized the complete absence of Indigenous foods," remarks Sean Sherman, an Oglala Lakota Sioux chef who works to revitalize Native American food systems in the modern culinary industry, in his TED Talk.
Sherman strives to create dishes that feature pre-contact foods. In 2014, Sherman founded The Sioux Chef, a food education and catering business. The Sioux Chef has also established the North American Traditional Indigenous Food Systems (NATIFS), a non-profit organization dedicated to improving the economic and physical health of Native American communities through food-related enterprises.  
In 2021, The Sioux Chef opened Owamni in Minneapolis, Minnesota. The restaurant features a decolonized, modern Native American menu, with dishes such as red cliff lake trout with white bean spread, hand harvested wild rice, grilled forest mushroom tacos, and summer berry salad.
Other notable Native American restaurants can be found in the San Francisco Bay Area. Cafe Ohlone, now located outside the Hearst Museum of Anthropology in Berkley, was the first Native American restaurant to open in California in 2018. Established by Vincent Medina, of the East Bay Ohlone people, and Louis Trevino, of the Rumsen Ohlone people, the restaurant features Ohlone cuisine like tan oak acorn bisque, venison and gathered mushroom stew, dandelion soup, and "sokoote," or bay laurel, crispy duck breast.
Crystal Wahpepah, a member of the Kickapoo Nation of Oklahoma, opened Wahpepah's Kitchen just this month. Wahpepah was the first Native American chef to compete in the Food Network show Chopped in 2016. The restaurant operates under values that emphasize food sovereignty.
On Wahpepah's Kitchen menu, you can find buffalo creek squash salad, green chili rabbit pozole, wild native mushroom pumpkin seed mole, and acorn crepes.
Torres also challenges people to reassess what they consider to be Native American food.

Ingredients native to the Americas

and domesticated by the land's Indigenous people have been integrated into cuisines throughout the globe.
Torres shared some of his favorite traditional foods and recipes, including mesquite cookies, cornbread, pine nut chocolate chip cookies, and green chile posole.
"I've been fortunate enough to grow up with lots of traditional foods and I still make lots of them," said Torres. "…A roast mutton sandwich is one of my favorites." This dish features thick and fluffy bread topped with roast mutton, green chile, and pickled vegetables.
With regards to Thanksgiving, some choose not to celebrate it, but use the opportunity to spend time with family. In an article for Time Magazine, Sherman explains that he has not abandoned the holiday, just changed how he practices it. He urges people to "explore a deeper connection to what are called 'American' foods by understanding true Native-American histories."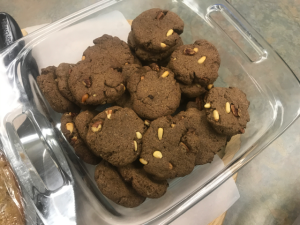 There are several ways to learn about Native American histories and culture, both on the local and larger scale. MSJC students can immerse themselves in classes that explore Native American histories, cultures, and literature. In his North American Indians class next semester, Torres will teach students about Native American foods and urban foraging for local ingredients.
"People just don't realize that there's lots of edible food everywhere… acorns, ricegrass, and yucca blossoms," said Torres, who gives his students the opportunity to try some of his own recipes. "I'll bring in different breads and whatever else I'm cooking at the time."
Local tribe events that are open to the public, such as powwows, are another way to learn about Native American culture and history, and try some local fare.
Torres also challenges people to reassess what they consider to be Native American food. Ingredients native to the Americas and domesticated by the land's Indigenous people have been integrated into cuisines throughout the globe. Major food staples, such as beans, potatoes, and corn, were all originally cultivated by Native American people. As many Native Americans work to reconstruct their culture through food, establish food sovereignty, and share their culinary gifts with the others, acknowledgement of how the culinary world at large has richened due to the colonization of their lands seems long overdue.
MSJC Events and Classes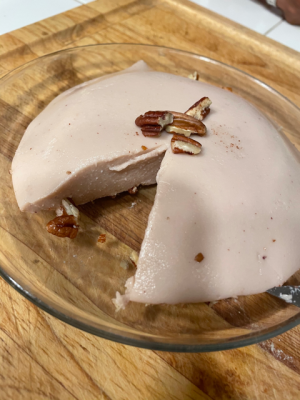 Join Mt. San Jacinto College in celebrating Native American Heritage Month. The MSJC Art Gallery will present its current exhibition, Erik Escovedo, Decolonizing Place and Time, from Oct. 31 through Dec. 7. Gallery hours are Monday through Wednesday, 10 a.m. to 4 p.m.
Professor John Torres will teach a North American Indians class, ANTH-105, in the upcoming spring semester. This UC and CSU transferable course is an overview of the Indigenous Cultures of North America from prehistoric times to the present. Ethnohistory, archaeology, language studies and cultural anthropology are used to understand the diverse adaptations to the complex North American landscape, as well as the changes that occurred when Europeans arrived. All of this is background for understanding current issues in Indigenous America.
Students interested in learning about Native American culture via literature can take American Indian Literature, ETHS-240, in the spring. This UC and CSU transferable course examines American Indian poetry, fiction, essays, and theories through the lens of critical ethnic studies and anti-racist issues, practices, and movements as both expressions and interrogations of Indian and tribal identity and culture and as strategies for survival in both the past and present within the larger American context.
Local Events and Resources
The Pechanga Band of Luiseño Indians will host the Pechanga Pow Wow from Jan. 6-8, 2023.
Several other Southern California tribes, including the San Manuel Band of Mission Indians and the Soboba Band of Luiseño Indians, host powwows from September through November.
The Malki Museum is California's first museum founded by Native Americans. Its Agave Harvest and Roast and Fall Gathering feature foods of the Cahuilla and Kumeyaay people.
Atlas Obscura and Sweetgrass Trading Co. have compiled guides to Native American restaurants across the United States and North America.