MSJC Celebrates LatinX Heritage Month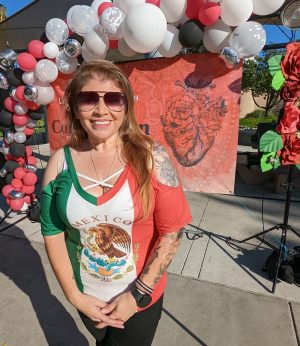 Mt. San Jacinto College (MSJC) hosted its LatinX Heritage Month Opening Ceremonies on Sept. 15 at the Menifee Valley Campus. The event featured several faculty speakers, live performances, a lowrider car show, and vendors.
"Sept. 15 is Independence Day for many countries," said Cynthia Garcia, Chair of LatinX/Indigenous Alliance. "So let's celebrate all of our different countries celebrating our independence today."
Latin American countries celebrating their independence on Sept. 15 include Costa Rica, El Salvador, Guatemala, Honduras, and Nicaragua. Mexico celebrates its independence on Sept. 16, as does Chile on Sept. 18. 
MSJC will be hosting several events to commemorate LatinX Heritage Month, which runs from Sept. 15 through Oct. 15.
"Representation matters," said Leticia Luna-Sims, Director of Title V LatinX and Hispanic Initiatives. "Today is a demonstration of serving, of love, and of passion."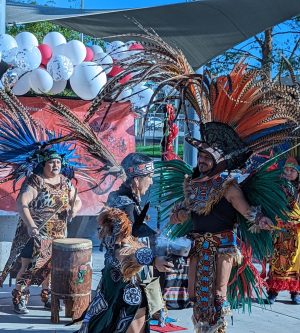 Danza Azteca Xochipilli, a family dedicated to preserving Aztec dance and music, performed several traditional prayer dances. Xochipilli means el hijo de las flores, el canto, y la danza (the son of flowers, song, and dance). Danza Azteca Xochipilli offers danza azteca classes on Tuesdays and Thursdays in Los Angeles.
Student resources attending the event included First Year Experience (FYE), Eagles Landing, and Mental Health Services Center.
All vendors were LatinX businesses, including La Torta Madre, So Cheesy Food Truck, Xicana Designz, and others.
The Opening Ceremonies were organized by MSJC's LatinX/Indigenous Alliance. Comprised of MSJC faculty and staff, they help to organize events and challenge systemic barriers to LatinX/Indigenous communities.
"HSI, M.E.Ch.A., and Puente are the three pillars helping LatinX students to stay on track and transfer," Garcia said.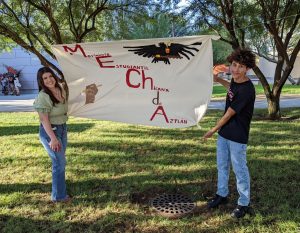 M.E.Ch.A.
Movimiento Estudiantil Chicana/o/x de Aztlán (M.E.Ch.A.) is MSJC's student LatinX club. They host events such as fundraisers and an upcoming celebration for Día de los Muertos. The club meets every other Thursday from 1:00-2:00 p.m. at San Jacinto Campus and Menifee Valley Campus.
"The events are you expressing who your true self is," said MSJC student, Citlaly Luevano. "Viva la raza!"
To join, email Cynthia Garcia at [email protected].
Puente
Puente is a two semester program that supports students by partnering them with a counselor, English instructor, and mentor. The program aims to prepare students for transfer to four-year universities. All students who are interested in Latinx Literature, cultural identity & experiences of Latinx in the U.S., and who are eligible for English 101 and CSCR 100 may participate.
To join, submit a Puente Student Interest Sheet or contact Cynthia Garcia (MVC) at [email protected] or Cynthia Vargas (SJC) at [email protected].
HSI
MSJC has been designated a Hispanic Serving Institution since 2001. Hispanic Serving Institutions are grant-funded and are identified as those with a 25 percent or larger Hispanic student population.
"52% of our student population identifies as Hispanic," said Rebecca Teague, Interim Vice President of Student Services. "We are invested and committed to the LatinX population and we are committed to your success."
MSJC's Foundation is hosting an HSI T-shirt fundraiser. Proceeds will support Latinx Scholars' scholarships.
Upcoming LatinX Heritage Month Events
Film Screening of War of the Flea: The Fight for Xicano Studies
Wed Sep 21 6:00 PM Zoom
Reception: Rony Armas, Our Stories are Ancient
Thu Sep 22 4:00 PM San Jacinto Campus Art Gallery-Bldg. 1400
MSJC LatinX Panel "In Our Words" at MVC
Tue Sep 27 11:00 AM Menifee Valley Campus-Rm. 927
Artist Talk with Primera Generacion Dance Collective
Wed Sep 28 4:00 PM Zoom
Film Screening of Forbidden: Undocumented and Queer in Rural America
Wed Oct 05 6:00 PM Zoom
MVC Drive-in Movie Night – Born in East L.A.
Fri Oct 14 6:30 PM Menifee Valley Campus Parking Lot D