Local Neighborhood Bonds Over Feral Cats
Felines Unite a Community in French Valley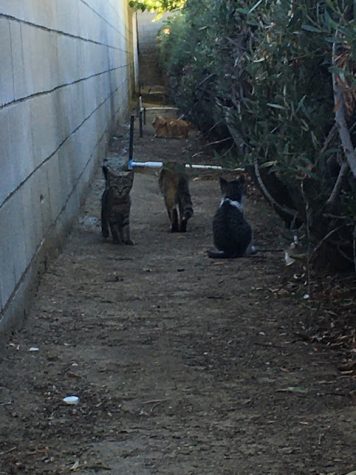 A local neighborhood in French Valley, CA has taken action to ensure the survival of the feral cats that live within their community. The first sighting of a family of feral cats appeared in 2020 during the ongoing COVID-19 pandemic. There were two adult cats, and five kittens which grew over the next few months. What started as a woman and her children feeding them while on their daily morning walk, has now turned into a community of neighbors working together to help these animals on a daily basis.
 The woman who was the first to spot them stated, "We've grown attached to them being a part of our neighborhood, and daily routine to visit on our walks. It brings joy to my children and I, and hope of something to look forward to, especially during these hard times during the pandemic when we can't get out much."

The woman also explained that soon after they started taking care of them by bringing food and water, others started to join in as well and contribute. Word began to spread quickly person by person, which peaked more curiosity as to what was going on. This curiosity ended up gaining more neighbors, and even outsiders to visit the local feral cats to help them.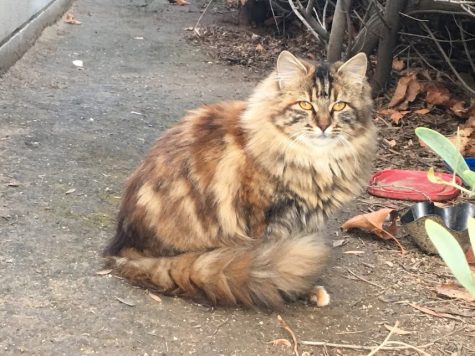 The main road into the neighborhood is just around the corner from where the neighborhood feral cats seek shelter. Driving your car down the street to exit the neighborhood or walking along the sidewalk, you will spot a fenced off shrub and sewer area on the right side.  This is where the cats live. In plain sight, you can see a short dirt trail that runs along a brick wall and acts as a barrier for the backyards and houses alongside it.
Authorized landscapers, who visit monthly, keep the area maintained and nicely trimmed inside the fenced area so it's not an eyesore in the neighborhood.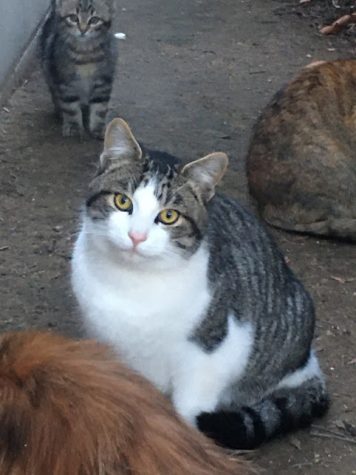 The family of feral cats live inside the area using the dirt trail as a path, and the bushes as shelter. The bushes also protect them from natural predators that linger, such as coyotes, that can't access this enclosed space. The resident that lives in the house right behind where the feral cats have lived stated,  "The coyotes in our neighborhood are desperate for food as houses keep being built pushing them out of their land. I've seen them roam early morning, at night, and even one waiting for the cats to come out of the small fenced area they can't get into to prey on." 
These residents have a clear view over the wall from their backyard of the feral cats, and surrounding area where the coyotes linger.

Feral cats are known for using their survival instincts when they live in the wild with no human interaction. However, when they grow desperate for resources of food and water, they'll seek shelter close to humans to survive.
This likely explains why they are living in the neighborhood now since no one knows how they got there, and the area they found to live keeps predators out.
Samantha, a local neighbor stated, "The cats have grown used to humans feeding them and helping take care of them, to the point that we can't just stop now.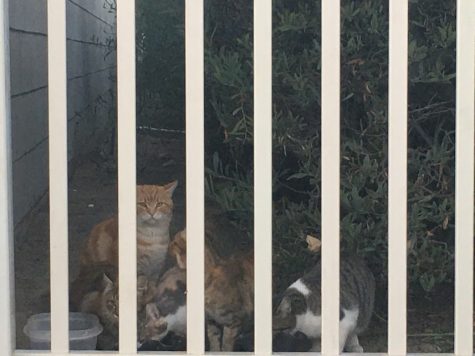 They need our help since the rescues won't do anything because the number of them keeps growing and they've been here so long. It's up to us now, and the neighborhood to look after them."
As a result Samantha continues to provide help for them, and visits them daily. Many have tried contacting shelters and rescues, but they refuse to help since the cats have been there so long now, and also because of the pandemic.
        A few neighbors are opposed to the idea to keep caring for these animals, but more than half the neighborhood supports and has come together to ensure that people keep providing for them. Their living space has become a spot to meet new neighbors as well as a way for people to work together as a team. The group of cats has given the neighborhood hope, joy, something to look forward to. By seeing the cats and caring for them during the pandemic, people are able to enjoy the little things in life like nature.