Thriving During Covid
MSJC's Psychology Panel Speaks and Resources Available to Students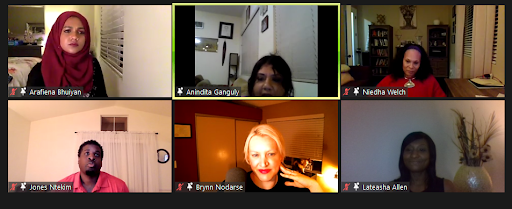 On November 18, 2021 – the MSJC Psychology Club and Active Minds sponsored a live Zoom event for all to attend to address challenges and struggles students and families are facing during the unpredictable times of COVID-19. The purpose of this gathering was to inform students of resources that are available at MSJC and to let them know they are not alone in whatever they may be facing in life.
Dr. Lisa McAllister, dean of the Student Health Center, stated, "We aren't just a COVID center – we offer so much more." She informed us that MSJC has a Health Center on campus for students who are attending in person and encouraged those who aren't feeling well to stop by. Services such as telehealth therapy are available online as well and are free to MSJC students.
The meeting included a discussion with speakers from the MSJC Psychology department who are experts in different categories of dealing with mental and physical health. The atmosphere was reassuring and uplifting in encouraging one another.
"These are not normal times and I'm getting emotional reading and hearing about your experiences, but so proud of every student for continuing to show up and do your best," said Arafiena Bhuiyan, physiologist, with visible tears in her eyes, and elaborated how, "young adults are having harder times with uncertainties, planning, and we need a camp to acknowledge that."
"Society is struggling with awareness and vocalizing," Jones Ntekim, director of the Student Health Care facility added, giving an example of how many people hide their problems when they are struggling – often turning to drugs or harmful behavior rather than acknowledging and seeking the help they need.
"Anxiety and depression are tricky when a person covers it up, but the best thing we can do is provide awareness, resources, and let each other know we're there for one another," Ntekim concluded with suggestions on how letting someone know you're there for them can be more helpful than you think.
"We're all human and have symptoms of anxiety and distress at times – questions to ask yourself to know when it's time to reach out for help include, 'Are these symptoms I'm having interfering with my school, family, or life?'" Lateasha Allen, licensed marriage and family therapist, added to the panel. She gave reassurance that it's okay to have feelings as we're only human, but when those emotions start impacting our daily lives it is a sign that a person should ask for help.
"It shows strength and bravery in asking for help and is nothing to be ashamed of," Brynn Nodarse, social worker, reassured us as well, before elaborating further, "We're here for you – your professors are here for you as well. They are humans too, and every challenge is an opportunity to grow. I can tell you that what it is today won't always be this way, in a few months or even tomorrow, in whatever you're facing."
"I'd like to also point out that the crisis symbol is the same symbol for opportunity," Nieda Welch, licensed marriage and family therapist, added in reply to Nodarse.
"If you're human, you can't come out of this pandemic without being affected in some way," Anindita Ganguly, clinical psychologist, jumped into the discussion saying. "A lot more division has happened with the trauma of the pandemic as compared to people coming together in a natural disaster." Then she went on to give suggestions, "Find something that grounds you such as hobbies you love – something that gives you peace because you won't find it in the outside world."
Coping skills may look different for each person but there are many resources available to be able to connect with one another. Ganguly concluded the session with, "Focus on things you can control rather than the things you cannot as you can only change yourself."
The panel was very insightful. Below is the link for more information on the Student Health Center and resources MSJC offers as these are times to thrive in:
https://www.msjc.edu/healthcenter/


Students can attend a Virtual Processing Group online to receive support and learn strategies to overcome challenges together every Wednesday from 5:30pm – 6:30pm on Zoom, no appointment needed.
Zoom Link: https://us02web.zoom.us/j/82305307489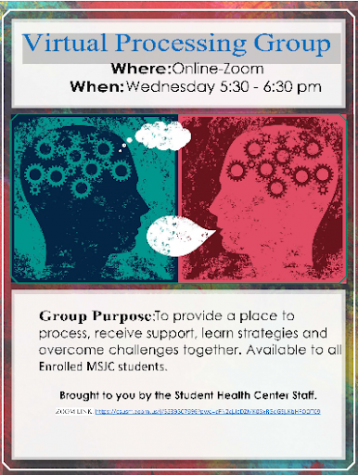 You can share your experience on how the pandemic has affected you and read others' experiences as well anonymously. Follow the steps below.