President Biden Signs Historic 1.2 Trillion Dollar Infrastructure Bill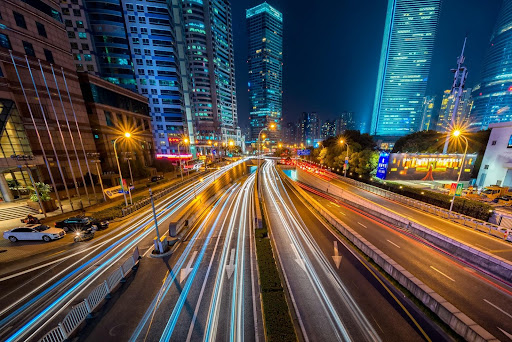 On November 15, 2021, President Biden signed a 1.2 trillion-dollar infrastructure bill aimed at improving and repairing the crumbling roads and bridges across the United States. According to the American Society of Civil Engineers, (ASCE) who gives a letter grade to the country's overall infrastructure health every four years, the U.S currently has no better than a C- grade. Infrastructure is a catch-all term that many do not know how to define.
Roads and bridges are what typically come to mind with infrastructure, however infrastructure includes much more than that. It includes dams, tunnels, storing of hazardous waste, inland waterways, pipes for drinking water, airports, shipping ports, electrical grids, broadband internet, and more. The grade given by the ASCE is a cumulative grade. The individual grades are as follows: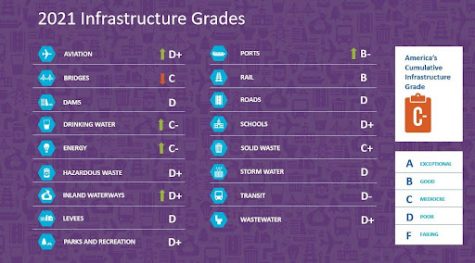 There is not a single person living in the United States that doesn't rely on infrastructure for one purpose or another every single day.
H.R.3684, also known as Infrastructure Investment and Jobs Act, is one part of President Biden's economic agenda. The second part of this agenda is the Build Back Better bill which passed the House of Representatives on November 19, 2021, by a vote of 220-21, and will now go to the Senate for debate and vote.
The infrastructure bill will spend 1.2 trillion dollars over the next ten years, this includes refunding existing infrastructure projects, while adding 579 billion dollars of new funding. Despite the President's claims that the bill is fully paid for, experts say the bill will add 256 billion dollars to the national debt over the next ten years, according to the Congressional Budget Office.
Georgetown University's Center on Education and the Workforce estimates the bill will create about 1 million jobs over the next 10 years. S&P Global Ratings estimates 883,600 jobs with the peak happening in the 4th quarter of 2025.
Access To Clean Water 
Clean drinking water is an essential human right. The water crisis that started in Flint, Michigan in 2014 and continues to this day, highlighted the fact that many communities, especially communities of color, don't have access to or have little access to clean drinking water. According to the White House, up to 10 million American households and 400,000 schools and childcare centers do not have access to clean drinking water.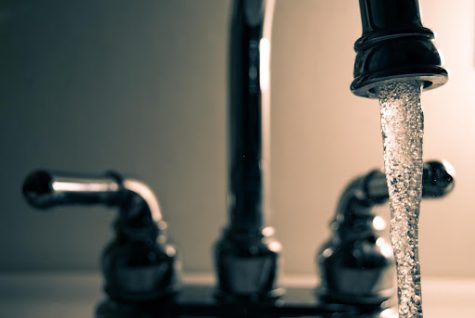 According to the National Water Alliance, a nonprofit organization that studies water insecurity, two million Americans don't have a piped water connection or adequate indoor plumbing. Among unplumbed households, studies show that households with people of color are almost 35% more likely to lack piped water as compared to white, non-Hispanic households.
According to the National Institute of Health, "minority and low-income populations are more likely to live in rural areas with water contaminants and in older housing prone to lead contamination." This bill will invest 55 billion dollars in expanding access to clean drinking water for rural and underprivileged communities.
This includes 15 billion dollars to replace lead pipes, 10 billion dollars to address water contamination from per and polyfluoroalkyl substances, 11.7 billion dollars over five years for the Drinking Water State Revolving Fund, and one billion dollars to address emerging contaminants. The bill will also address wastewater issues with decentralized households grants that will get 150 million dollars over five years to help low-income homeowners construct or repair failing septic systems.
The bill takes important steps to ensure that all Americans have access to not only safe drinking water, but safe effective plumbing, storm-water, and sewage overflow issues.
Access to Broadband Internet
Just 15 years ago high-speed internet was considered a luxury, and now with nearly every aspect of life online, many consider internet access a utility akin to electricity and water.
According to the Federal Communications Commission (FCC), "in rural areas, nearly one-fourth of the population, 14.5 million people lack access to this service. In tribal areas, nearly one-third of the population lacks access. Even in areas where broadband is available, approximately 100 million Americans still do not subscribe" These areas lack the necessary infrastructure to even meet minimally acceptable internet speeds.
According to the Organization for Economic Co-operation and Development, the U.S has the second-highest cost of broadband internet among 35 countries studied with an average cost of $61.07 per month. The bill provides for 65 billion dollars for broadband internet infrastructure, the bulk of which, 42.5 billion for states localities to improve access to broadband internet.
The bill also makes internet discounts permanent that were created in response to the COVID-19 pandemic. It subsidizes 30 dollars a month for qualifying low-income households through a new program called the, "Affordable Connectivity Fund," which will receive 14.2 billion dollars from the bill. It also puts new regulations in place that require internet providers to use a uniform label to describe their service offerings and price. Providers will also now be required to offer low-cost opinions through the 2.75 billion dollars provided for the Digital Equality Act, to ensure communities with historically low access to the internet will now be able to purchase service.
The Digital Equality Act also provides funds for Wi-Fi hot spots in schools and digital literacy programs for seniors. According to the ASCE, an estimated one in five school aged children lacked the high-speed internet connection needed to access lessons and other materials. Under the new law, the FCC is now required to adopt regulations that prevent "digital redlining" in which internet providers refuse to offer internet access or build in areas they think will be unprofitable, and prevent discrimination of access based on income, race, ethnicity, color, religion, or national origin.
As the internet becomes an integral part of American life because more jobs and educational institutions require internet access, this bill will ensure that more Americans will have access to affordable internet and improve digital literacy.
Roads and Bridges
According to the ASCE, "Growing wear and tear on our nation's roads have left 43% of our public roadways in poor or mediocre condition, a number that has remained stagnant over the past several years."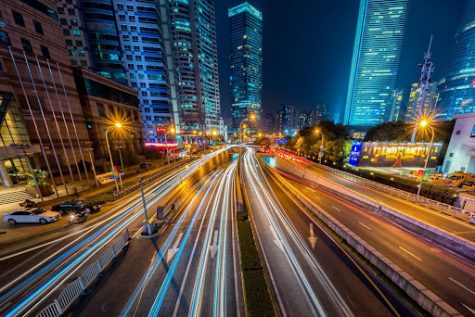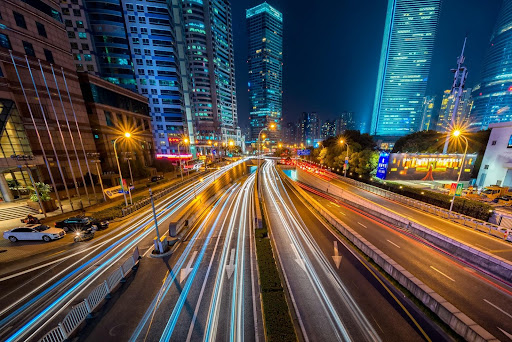 The average American spends $1000 a year on wasted time and fuel as a result of the poor state of our roads and bridges. One out of every five miles of road is in poor condition. This amounts to 173,000 miles of road along with 45,000 bridges. The U.S. has been under-funding its roadway maintenance for years, resulting in a $786 billion backlog of road and bridge capital needs.
"The bulk of the backlog ($435 billion dollars) is in repairing existing roads, while $125 billion dollars is needed for bridge repair, $120 billion dollars for targeted system expansion, and $105 billion dollars for targeted system enhancement," according to the 2021 report card by the ASCE.
The bill reauthorizes existing surface transportation programs over the next five years while providing an additional 110 billion dollars in new funding for repair. This represents the largest single investment in our roads and bridges since the Interstate Highway Act of 1956. The funding includes 40 billion dollars for bridge repairs and rehabilitation, 16 billion dollars for projects too large or complex for traditional funding programs.
According to the Association for Safe International Road Travel, up to 38,000 people die per year in auto accidents, representing about 12.8 deaths per 100,000 people. Traffic fatalities are the largest cause of death for people in age ranges of 1-54 years. Road crashes cost the U.S. more than $380 million in direct medical costs.
The bill provides 11 billion dollars for transportation safety. This includes funding to help states reduce the number of crashes and fatalities, especially among cyclists and pedestrians. When the interstate highway system was constructed, many of the highways cut directly through many communities of color, removing many people from their homes through eminent domain claims. The bill provides one billion dollars to help reconnect communities of color that were affected by the construction of highways.
This portion of the bill is by far the largest and in many ways the centerpiece of the legislation. Roads are something almost every American uses daily and their importance cannot be understated in terms of reliability and safety. This holds true for both citizens and corporations as well.
Transit and Rail 
According to the White House 24,000 buses, 5,000 rail cars, 200 train stations, and thousands of miles of tracks are in need of replacement. According to the Department of Transportation (DOT), there are 140,000 miles of railroad in the U.S which serve both passenger and freight. They have a cumulative annual revenue of about 77 billion dollars per year. These lines transport about 1.4 billion tons of goods every year and by 2045 that is estimated to increase to 1.58 billion dollars.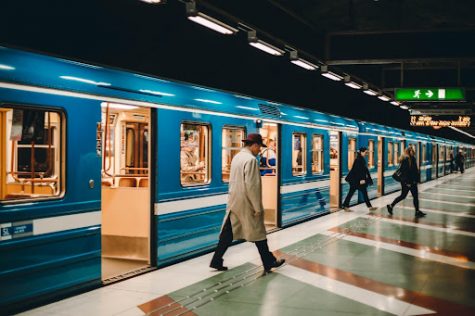 According to the DOT in 2019, "Amtrak's network carried 32.5 million riders to more than 500 destinations across 46 states and the District of Columbia. This translates to a daily average of nearly 89,100 trips on more than 300 Amtrak trains." U.S passenger rail has fallen well behind the rest of the industrialized world; China has planned 22,00 miles of high-speed rail and plans to double that by 2035.
The bill invests 66 billion dollars to eliminate the Amtrak backlog for repair and replacement of tracks and rail-cars. It also provides 39 billion dollars for modernization of transit systems, and 89.9 billion dollars for funding of mass transit over the next five years. This represents the largest investment in public transportation and rail in U.S history and also improves access for elderly and disabled people.
Airports and Ports
No U.S airport ranks in the top 25 airports worldwide. At least 80 million flights were delayed in 2019 alone, according to the Bureau of Transportation, where 253 million Americans flew in 2019. The pandemic obviously lowered that number in 2020, but as people are getting back to their normal lives, the airports and ports are having a difficult time keeping up with demand along with new safety regulations.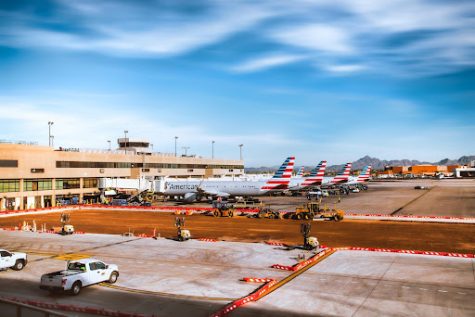 In 2019, 14.6 % of all goods consumed were imported to the U.S. Americans rely heavily on goods from overseas which makes the airports and ports integral to the economy. The supply chain crisis that is currently plaguing the country has been large due to the inability of many ports and airports being unable to keep up with demand along with the lasting impacts of the COVID-19 pandemic.
Ports are arguably the most important part of the U.S economy.  The American Association of Port Authority contributes 5.4 trillion dollars to the economy, which amounts to roughly 26% of total GDP (Gross Domestic Product). Neglect and underinvestment in both our airports and ports have left the nation's supply chains and transit extremely vulnerable to bottlenecks and backlogs.
This bill invests 17 billion dollars in port infrastructure and inland waterways, 25 billion dollars to help fix airports and address repairs and maintenance backlogs, and reduce congestion near ports and airports. This will also lead the way to reducing emissions and drive airports and ports towards electrification. While this portion of the bill addresses the conditions of the ports and airports themselves, much of a port's success is reliant on the infrastructure surrounding it.
Electric Vehicle Charging Stations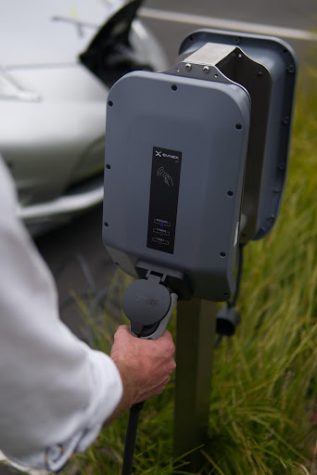 With the increased demand for electric vehicles in response to rising cost of fossil fuels and the increasing climate crisis, the need for more electric vehicle charging stations has never been greater. The U.S market share of electric vehicles is only one third of the Chinese electric vehicle market. This is in large part due to the lack of infrastructure available to the public to accommodate electric vehicles such as charging stations.
This legislation will invest 7.5 billion dollars to create a network of charging stations. This is a huge step in the President's plan to fight climate change while also creating thousands of manufacturing jobs throughout the country.
Power Grid Reliability and Resilience Against Climate Change 
The unprecedented power grid outages in Texas in 2021 were a wakeup call and a warning for what the future holds in terms of extreme weather events on our power grid. As climate change accelerates, these events will become more common and many parts of the country's power grid are not equipped to handle extreme weather events.  Thus we could see more crises like the one we saw in Texas.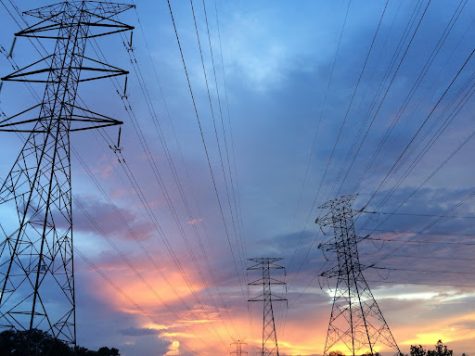 As it stands right now, power outages cost the U.S economy 70 billion dollars a year annually, according to the Department of Energy. Renewable energy has increased in recent years to represent 17.6% of the total energy produced in the U.S while 19.7% is nuclear, 23.5% coal and 38.4% natural gas.
According to the ASCE, all three components of the electrical grid (generation, transmission, and distribution) have an investment gap, meaning that there is not enough money invested yearly to keep up with increasing demand and maintenance.
The bill provides more than 65 billion dollars, creating the largest investment in clean energy in American history. This will also include money to build thousands of new miles of transmission lines, and help upgrade and reinforce our power grid. In 2020, the U.S experienced 22 extreme weather events which cost about 1 billion dollars each, and had a cumulative price tag of 100 billion dollars in lost revenue, repairs and cleanup costs.
The bill provides 50 billion dollars to protect against drought, heat, floods, wildfires and weatherization. More investment will be needed to continue to address climate change in the future as extreme weather events become more common and much more is needed to switch our energy sources away from fossil fuels to renewable energy. The second part of the President's agenda is the Build Back Better bill which calls for 555 billion dollars to fight climate change.
Legacy Pollution
Legacy pollution is something that isn't thought about much when it comes to infrastructure unless you live by a former industrial or energy site that has now become idle. These sites are designated as superfund sites by the Environmental Protection Agency. Proximity to these sites can lead to long-term health problems, especially in children who grow up near these sites.
This bill will invest 21 billion dollars to help clean up these sites, reclaim abandoned mine land, and cap orphaned oil and gas wells. These sites overwhelmingly affect communities of color more as it is found that 26% of Black Americans and 29% of Hispanic Americans live within 3 miles of a superfund site.
Opinion
I would be remiss if I didn't write this, but let this serve as proof that the government can work and accomplish things that improve people's lives. It won't happen overnight or tomorrow or even a year from now, but this bill will improve the lives of millions of people all around this country, yours and mine included.
This is also proof that participation in our democracy matters, your voice matters, your vote matters. No matter how discouraged you become with the system, and no matter how hard the powers at be, may try to silence the voice of the people, let it be known that we can make a difference.
Please go vote, volunteer on campaigns of candidates who you believe in. Call your representatives, hold public officials accountable for their actions and above all else, help those in need of your help. Help educate your fellow citizens and never let anyone tell you that your voice doesn't make a difference.
If everyone thought their vote didn't matter, none of the significant changes in this country would have ever happened. Don't give up, fight the good fight, and remember that every good thing that was accomplished in this country started with individual citizens caring about the well-being and treatment of their fellow citizens.
In the words of Dr. Suess, the Lorax, "Unless someone like you cares a whole awful lot, nothing is going to get better. It's not."