Kwanzaa Celebration: What exactly is Kwanzaa and what does it mean?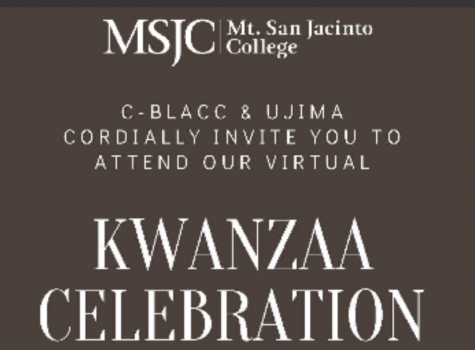 ]MSJC's KWANZAA Invite Flyer – Screenshot by: Ashley Liermann
MSJC's C-BLACC and Ujima hosted a live Kwanzaa Celebration via Zoom on December 2, 2021. The event lasted from 6 pm to 7:30 pm and provided educational information about Kwanzaa, and live entertainment.

What is Kwanzaa?
It is an annual celebration of African American culture starting on December 26 and going through January 1. Kwanzaa is a celebration of life that is centered around family, community, and spirituality while also not tied to a particular religion.

Dr. Pamela Wright, host of the celebration stated, "This event is to give the feel of the true meaning of the Kwanzaa Celebration, and it doesn't matter your religion as it is for all to celebrate together."

The event started with listening to the National Black Anthem called, "Lift Every Voice and Sing." 

Listen to the video of it that is shown below:
https://youtu.be/PHn2SSzZszU
From there, a quick poll was taken asking those that were attending how familiar they were with the Kwanzaa. The majority of people in attendance answered that they had heard of it, but didn't really know what it was about, and shared that they joined the event for the experience.

The host then proceeded to explain more of the true meaning of the holiday, even explaining the symbols that are used during Kwanzaa week. One of the symbols is called a "Mishumaa Sabaa," which is seven candles with each candle representing a day and principle when lit during the week of Dec 26 through Jan 1. 


Presentation of the Mishumaa Sabaa and meaning – Screenshot by: Ashley Liermann
Alexia Smith, co-host, shared the meaning of each candle, while Dr. Pamela Wright lit each one as an example. Starting from lighting the black candle in the middle representing African American culture, she then lit the red that represents our struggles we encounter, and finally lit the green for our future victories.

What do the colors of candles represent on the Mishumass Sabaa symbol?
Black:

represents the African American culture

Red:

struggles that we all face in our lifetime

Green:

a symbol of our future in overcoming struggling and being successful
"As we light the final candle on the seventh day, we believe with everyone – our community, teachers, family, loved one's in the victory that we overcome the struggles we face in life, and for a great and brighter future." Stated Alexia Smith, co-host of the meeting.
For the rest of the session, professional performers provided live entertainment of African drumming and dancing.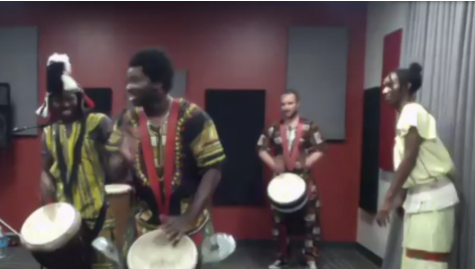 Professional group performing African drumming and dancing – Screenshot by: Ashley Liermann
Dramane Kone and his group performed for an hour with short breaks in between as the drumming and dancing are very physically demanding and non-stop. However, the music and dancing was full of energy that had a positive uplifting atmosphere.

One could visibly see viewers on the zoom video bobbing their heads, smiling, even dancing along – clearly enjoying just watching and being there as a part of the celebration.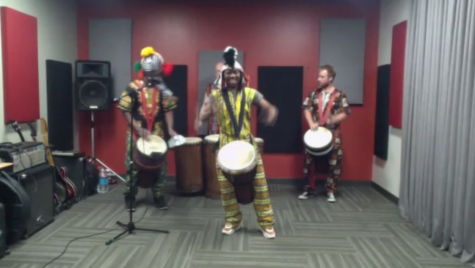 Dramane Kane smiling in middle performing – Screenshot by: Ashley Liermann
The performers enjoyed putting on the show as they smiled and thanked one and all for being there throughout the event and often wishing everyone a "Happy Kwanzaa!"

Overall, it was an event and celebration that brought everyone together no matter what color or religion. It was a time taken to observe being thankful for life together.

MSJC's KWANZAA Invite Flyer – Screenshot by: Ashley Liermann