A Local High School Performs West Side Story after two years of waiting
Nick Pettis, President/ Video Content Editor
March 15, 2022
Murrieta Mesa High School has been waiting for the chance to perform West Side Story for two years now. Just before opening night in 2020, Murrieta Valley Unified School District closed the entire district's in-person events and in-person classes due to Covid-19. 
Now, two-years later, they were able to perform it with a new cast, since some of the original 2020 cast members graduated or went on to do other things.
Ryan  dedicated that day's performance to the original cast, which included myself, a high school senior at the time. He also invited the original cast members who came that night to go on stage and take a bow, which provided me the necessary closure I needed after leaving the world of theater.
Adam Crayton, a senior at MMHS, played Tony. His vocal performance was good. His acting and dancing were great. He was a good Tony.
Isabelle Mellado, a freshman at MMHS, played Maria. Her vocals had  the audience in tears. She was an astounding singer. Her acting, emotions, and dancing were great. Her performance was amazing, in spite of her youth.  
Monica Sarai Rocha, a junior at MMHS, played Anita. She was good at her role. Her singing, dancing, and acting were great. She was a good Anita.
Nikolas Ramirez, a sophomore at MMHS, played Bernardo. He was good. His acting and dancing were great for his role. His singing was good. He was a good Bernardo.
Logan White, a junior at MMHS, played Riff. He was a good singer, actor, and dancer. It was like he was born to play Riff.
The Jets, comprised of Kobi Gory (senior), Jason Nadler (senior), Shadia Huber (freshman), Adam Taylor (senior), Luca Enriquez Capalbo (sophomore), Levi Alderete (sophomore), Rome Stachelek (freshman), Shiann Elizarraraz (freshman), Katelyn Scott (senior), Kaitlyn Alexander (sophomore), Stephanie Salazar (senior), and Emily Goettman (junior), were all great at their individual parts, but together they really made the Jets come to life. I was glad to see that they still had the power to perform a great show after 2 years.
The Sharks, comprised of Quinten Quijada (freshman), Kayden Comacho-Nava (sophomore), Isaiah Schoenborn (freshman), Kyle Northup (senior), Aidan Vallejo (junior), Leslie De La O (junior), Sophia Wilson, Dayna Evans (sophomore), Ella Quijada (senior), Mia Cervantes (sophomore), and Olivia Williams (junior), were also great at their individual parts, but together made the Sharks come to life. I was glad to see how they did. No show is great without their ensemble, and this one is no exception. The ensemble comprised of Tanner Kohn, Isabella Judge (freshman), Kailey Sprague (freshman), Mr. Robert Gergins (teacher), Mr. Scott Richards (principal), Mrs. Lorie Coleman (assistant principal), Audrey Clingan (sophomore), Madison Adkison, Azvyel Ochoa (sophomore), Abby Rea (freshman), Amy Breniser (freshman), Yasmine Morales-Guerrero (junior), Tahis Torres (sophomore), Elena Garza (freshman), Ryan Harkness, Jamie Lerma (junior), Riley Walsh (freshman), Celestine Rocha (junior), Alivia Shelby (sophomore), Irais Reyes (sophomore), and Aris Culpepper (freshman). As I mentioned, a show is built off of its ensemble. This one was great at what they did.
They all put their heart and soul into this show, and it paid off. I'm glad I was able to see it. I mentioned that I was in the original cast. I'm disappointed that I didn't get to perform it myself, but I'm glad that these kids got their chance. I had almost my entire lifetime of performances, so I got my chance. Murrieta Mesa High School theater company, "you've done good buddy boy."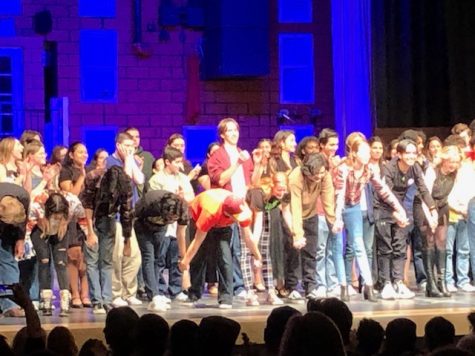 These pictures feature some of the original cast, I'm the one in the USC hat and red shirt, and the new cast taking their bows at the end of the show.