The Great Temecula Toast
This week on April 26, 2022, our very own Temecula Valley held an official attempt to beat a world record. What record you might ask? Well, none other than the record for the longest toast relay. Seems pretty fitting, doesn't it?
The world record for the largest relay toast is currently held by Coca-Cola with 1,300 participants. The Temecula Valley Winegrowers Association decided to try and beat that record in none other than Temecula Valley, the valley of wine.
The day started at 9:00 a.m. and it did not end until almost 1:00 p.m. It was a good turnout, but when speaking with some of the guests I learned that it could have been much more organized, which might have changed the outcome. It is important to be organized and have a proper leader when doing something as big as this. I spoke with one of the attendees Melinda Maguire who stated, " I think it was a great attempt, but if the organizers had kept better track of the number of participants, and not had the sign-ups close so early I think we would have had a better chance at beating the record." After the event happened, I knew this was the biggest flaw.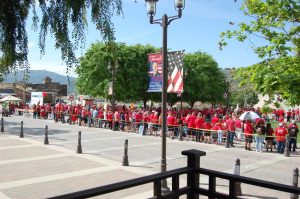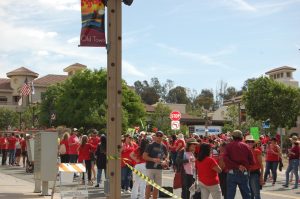 The total number of participants was only 943 and they needed 1,300 to beat Coca-Cola, so they likely closed the sign-ups too soon, and some people they were planning on being there did not show up.
The attempt was good and according to another one of the attendees, Susan Davidson, she stated, "Great attempt, fun times with friends. Looking forward to a more organized attempt next year." So, even though they did not beat the world record, it was still a day of fun with friends and people all throughout the Temecula Valley.
And even if we did not win, it was still an awesome way for some business promotion. The event was sponsored by Visit Temecula Valley, Libbey foodservice, and The city of Temecula. Although the event was sponsored by these businesses, the wine came from local wineries here in Temecula.
While everyone was waiting for the toast, there were entertainers from Temecula promoting their businesses. The "Rock Box" party bus was there announcing birthdays, playing music, and making jokes trying to keep the crowd entertained. One thing he said that made everyone laugh was, "aside from our world record attempt, you guys are all breaking a record of babysitting your glass of wine for so long." At this point, this was really funny for the whole crowd because they had been standing with their glass for almost three hours at that point not being able to drink them.
Inside the ropes, nearly every winery in Temecula was represented, as well as many local businesses and people who work in city hall. There were many toasting groups present, which include Doffo Winery, Peltzer Winery, Wilson Creek Winery, Refuge Brewery, Grapeline Wine Tours, Socal SideCar Tours, Pechanga Resort and Casino, The Stampede, Wine Country Chiropractic, Be Good Restaurant, Temecula Valley Balloon and Wine Festival, and Reality Rally. The Temecula Chamber of Commerce was also there which made it extra entertaining and exciting to meet some people that normally are not seen all of the time. 
It was a very good time and a really close attempt. Melinda Meguire stated, "it was a great way for us to gather with the community and meet members who work at other wineries and other places here." I think that if they attempt to do it again next year, they should try doing it on a weekend when people do not have work, and they should also make sure to overbook to ensure they have enough people.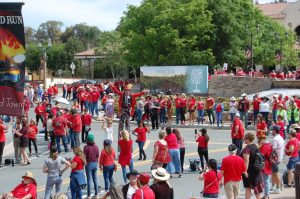 Even though the record was not beat it was still an amazing time and a good way for community members to relax a bit and come together as one big family. As they say in wine country, "Enter as strangers, leave as friends."