Commemorating Stage-Hands and Stage-Managers
The role of the stage manager is an umbrella title with a rotating list of responsibilities that depend on the needs of a show. Their responsibilities include the safety of everyone in the production, and to be fully aware of everything that's happening both on and off the stage. However, Liz Garcia would consider stagehand to be much easier. It's a job that includes moving or flying set pieces, finding props if they go missing, and whatever else the stage manager needs. Garcia has been a stage manager for almost six years. Her main gig is a city-employed stage manager, and stagehand or deckhand, at the Old Town Temecula Community Theater. She has acted as stage manager for 60+ one-off concerts, as well as 45+ different plays, dance shows, and musicals. Some of these shows include Noises Off, Into the Woods, Giselle, and Shrek. That isn't even counting the 30+ shows she's done as a stagehand or spot operator. Garcia has a plethora of experience and a near-infinite amount of information to provide regarding the inner workings of her various hired positions.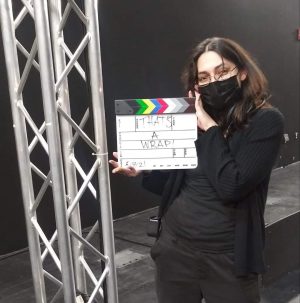 From 7th to 12th grade, Garcia completed two years of choir, three musicals, and four years of show choir. She took method acting classes at Cypress Community College and a small theater in Burbank, all under the same instructor. She also tried her hand at being a scare actor with a haunted attraction consultant company. She earned her current job during November of 2016. At the time, she was pursuing her technical theater degree and certificate at Mt. San Jacinto Community College. For five years, Garcia learned the basics of stagecraft, stage management, costume design, theatre makeup and hair, studio recording, set design, scenic painting, and lighting design. Come Fall 2016 shortly after stage-managing The 25th Annual Putnam County Spelling Bee at MSJC's Menifee Campus, she was interviewed by Old Town Temecula Community Theater and promptly hired.
Garcia describes that one of the basic qualifications for stagehands is common sense when it comes to safety, whether it's constructing a set or moving a set piece. They must know, or be willing to learn, how to use basic power and hand tools. They must possess the ability to work from the neck down, meaning that they will be told what to do by someone else. Both load-ins and show-runs are more susceptible to going sour if a deckhand is stepping on toes to get their way or giving unnecessary attitude. If someone wants to be in control, they'll have to prove themselves like everyone else and earn it. On the other hand, stage managers must know and handle even more. Both cast members and fellow crew will be going to them for answers about blocking and scene changes. At the bare minimum, they should be organized, safety conscious, and effectively communicate with or listen to people. They'll have to be a problem solver and willing to delegate tasks to others. Objectivity is also a plus, as with theater there can be drama behind the scenes. An attention to detail is also helpful, and it helps a seasoned stage manager pick out important information to write down for future reference and think ahead to the questions nobody's even asked yet.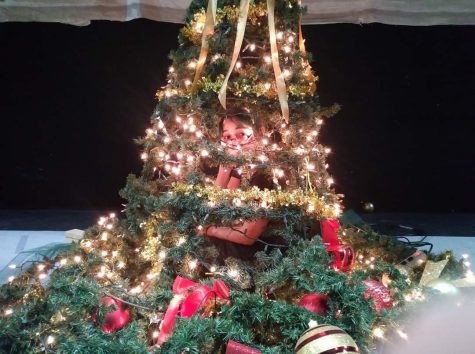 One of the biggest challenges to overcome when doing her job is dealing with unforeseen circumstances that might occur. Garcia has previously dealt with actors, fellow staff, and even herself, all falling sick or getting hurt just between tech week and the last show of the lineup. She has seen tracks muting themselves during a performance and has also witnessed two shows shut down during the arrival of the pandemic. She claims that it is sometimes impossible to prepare for a worst-case scenario or to maintain your composure. "There's a saying I've heard—If a stagehand is seen running, everything is still fine. But if the stage manager is running, then it's time to panic. There's a little truth to it. The stage manager is supposed to be the captain of the ship. The second they lose their cool or start to panic it can affect the morale of the cast and crew." Garcia says.
Another previously mentioned challenge that stage managers must overcome is effective usage of time. Based on Garcia's personal experience, most rehearsals take place in spaces much smaller than the stage itself. It's rare for a set to be fully built before load-in, meaning that actors, the director, and the choreographer can't experiment with it yet. Various departments will also want a full run through during the first day of tech rehearsal, so that more time can be spent programming. As stage manager, Garcia must resolve any issues that may appear on her end. Within the time span of just three to four days, she'll be fleshing out as many possible details before the set even loads in. But the idea that each show will require a different approach, however, is something that Garcia truly loves about her job—as well as meeting many talented individuals. "I don't care what anyone says about community theatre. I have met quite a few talented singers, actors, dancers, musicians, and backstage techs at this level. Everyone puts their heart and soul into each production." She exclaims.
She reflects back on Mamma Mia! in August of 2021 and The Avocado Dance Show of 2017, believing them to be prime instances of when she was most pleased with the efforts of both herself and her team's overall contribution. For Mamma Mia! it was overcoming the worry that they would be shutting down—and finally hearing the sound of a cheering audience after an eighteen-month hiatus caused by the pandemic. While she had technically still helped with five shows during the shutdown, being back at her home venue from her desk with her crew on headset and an audience in their seats never felt so right. As for the Avocado Dance Show, Garcia was given four days to learn about 200 light cues for a two-show run. Adjustments were still being made on opening night, but she still managed to pull through with the help of the lighting designer sharing his video footage. She was able to practice during the day, and opening night went by smoothly. Yet, it was the second show that proved to be her utmost favorite. "It was visually and technically perfect. In a live show many variables can go wrong, like someone missing their cue or a dancer falling on stage. We were lucky. No physical mishaps from the dancers. My cue calls and the crew's reaction time were on point. I don't know what stars aligned, but it hasn't truly happened since." She replies.