Smoke in the sky as the Fairview Fire continues to grow
As if the excessive heat warning that has been in effect for the last couple of days weren't bad enough, now a wildfire has broken out at Fairview Avenue in Hemet, California. The fire started on September 5th, 2022 at around 4 o'clock pm and quickly grew to 500 acres. The fire has destroyed seven structures and is responsible for two civilian fatalities and a civilian injury in just two days. Smoke can be seen all over the skies of Hemet, San Jacinto, Temecula, and most of Riverside County, making conditions in the area worse.The smoke leaves an unpleasant smell and ash is falling from the sky, as the fire in Fairview Avenue grows larger by the hour. As of September 8th, 2022 at 8:30 am, the Fairview fire has burned 18,657 acres. The fire has nearly doubled in size compared to the 10,000 acres that was reported yesterday, and it is a threat to over 2,500 structures. The fire is growing at a rapid pace while the temperatures continue to peak at over 100°F throughout most of Southern California.
The fire is 5% contained as the Riverside County Fire Department continues to fight this fire and try to prevent it from doing damage to more homes. "We're looking at the winds right now, we do have the Bautista Camp to ourselves and we're anticipating that it will go that way, however if it does come over this ridgeline, we think it will back down towards the structure. As you can see that thermal layer build up right now, if you look up, the sun, you can see that it's bright orange, so it's already a pre-heated pre-charge, and like I said the wind shifts are what I'm afraid of, so just keeping an eye out on that," said Shavawn Johnson, Fire Captain at Lakeland Village in a video uploaded by the Riverside County Fire Department. As a result of the winds, movement of this fire has been unpredictable, making it even more dangerous to be around this fire. It is urgent to evacuate if you are in the evacuation zone.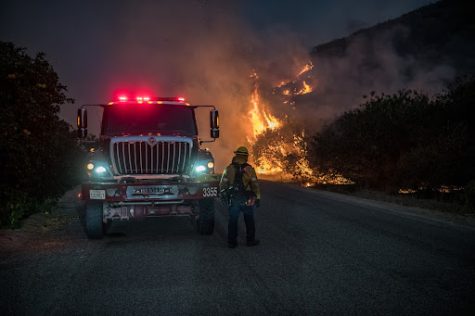 As it stands, there is a 41% chance of rain on Friday and a 49% chance on Saturday according to the Hemet weather report, so rain would be beneficial to help Riverside County Fire Department put out the fire that has been spiraling out of control and growing at an unprecedented pace. The community is thankful for all the brave men and women who are there fighting this wildfire.   The community will also keep those who are currently being evacuated due to the fire in their thoughts as they go through this horrible situation.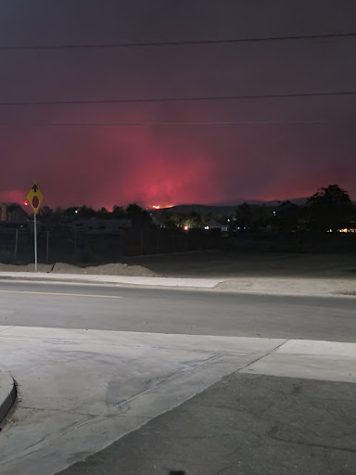 Evacuations orders have been placed:
South of Cactus Valley Road
North of Minto Way
North of Red Mountain Road
 West of USFS Boundary
 East of Sage Road
 West of Wilson Way
 South of Hwy 74
 East of Fairview Avenue
 North of Stetson,
South of Minto Way
South of Red Mountain Road
West of Stanley Road
 North of Stanley Road
 East of Sage Road.
Evacuation warnings have been placed on:
East of Red Mountain Road
The Cahuilla Mountain U.S. Forest Service boundary
South of Minto Way
South of Red Mountain Road
West of Stanley Road

The Fairview fire glow at night (Tyler Brown)

 North of Stanley Road
East of Sage Road
West of Fairview
South of Hwy 74
North of Stetson
East of Soboba Street
East of Fairview
North of Hwy 74
South of San Jacinto Riverbed
East of Wilson
East of Sage Road
 West of Reed Valley Road
 West of the Forest Service boundary
 South of Stanley Road
North of Wilson Valley Road
 East of De Portola Road
 West of Sage Road
 North of East Benton Road
 South of Diamond Valley Road
 South of Rawson Rd
 East of Washington S
 North of Borel Rd
 East of Rancho California Rd
 East of Anza Rd
 North of Temecula Pkwy (Hwy79)
 Northwest of Hwy 371
 West of Hwy 74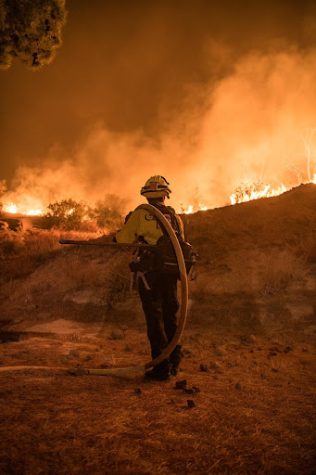 Evacuation centers are Tahquitz High School on 4425 Titan Trail, Hemet CA, 92545 and Temecula Community Center on 30875 Rancho Vista Road, Temecula, CA 92590.
Large Animal Shelter is at the Riverside County Animal Shelter on 438 S. State Street San Jacinto, CA 92583.
The California Ranch Company at 43101 Anza Rd, Temecula, CA 92592 is also available to take horses, livestock, and other large animals.
Small Animal Shelter is at the Small Animal Care Center on 601 S. State Street, San Jacinto,CA 92583.
Additional information regarding evacuations can be found here.
Diamond Valley Lodge is in need of assistance as the fire is getting closer to them and they house four tigers. More information can be found on their facebook. Please assist them if you can.
MSJC stands with students who have been evacuated or have an emergency need due to the fire, a grant of a maximum amount of $500 is available through the MSJC Foundation. Please fill out the form on the Eagles Landing – The Center for Student Essentials. The center also provides food and other necessities for MSJC students.
Additional information regarding the fire can be found here.
UPDATE – SATURDAY, SEPT 9th Fairview fire operational update
Riverside County Fire Department
Fairview Fire Operational Update September 11th, 2022