MSJC Proudly Hosts its 4th Annual Drag Show
Mt. San Jacinto College (MSJC) hosted its 4th annual drag show on Oct. 4 at the San Jacinto Campus (SJC) theater. The show was hosted by Jazmyn Simone-Échelon and featured performances by King Phantom, Nebuer Styles, and Madame LaQueer from RuPaul's Drag Race. 
Open to all ages and free of charge, the show created a safe space for students, staff, and all other members of the community to celebrate their Pride. For some students, this was their first drag show experience.
"We are an organization that is committed to making everyone feel welcome and safe on campus," said Robert W. Schultz, President of MSJC.
"I thought it was amazing. It was my first time ever at a drag show," said Genellie Bu. "All of my friends and I will be back!"
"We as eagles fly higher and show our pride with any colors. The school [MSJC] is very accepting," said MSJC student Kota Akkerman. "We love everyone, no matter the pronouns or sexual orientation. We're all proud."
The drag queens and king lip-synched, danced, and donned a myriad of glamorous and festive outfits.
King Phantom, who has been performing drag for 15 years, shared some advice for students who are interested in the art: "Do your homework. That means google everything about drag, what kind of drag you like, what style you're into, what kind of music… every little bit, even the makeup. It takes a lot of work."
"Come out to one of the Hamburger Mary's shows, because it is a family show, and you can find allies there, and you can find basically your family," King Phantom advised those who want to get involved with the LGBTQ+ community. "We're all loving, we're all family. If you need help, just reach out to any of us, even the performers."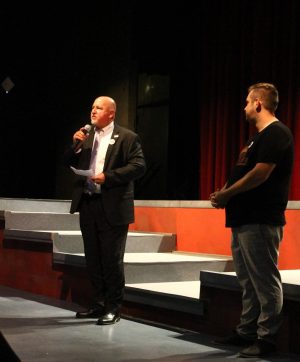 Ryan Sullivan, English Professor, Interim English Co-Chair, and LGBTQ+ Advisory, discussed the efforts MSJC has made to support its LGBTQ+ students with The Talon. Our conversation, included below, has been lightly edited for length and clarity.
Why did MSJC decide to start hosting drag shows?
MSJC hosted the first show in 2016. At that time, we had very little in terms of LGBTQ representation. We did have the Coming Out Forum and Beyond the Binary, but we really didn't have anything else on campus. This was my first year as an interim full-time faculty member and I proposed doing a drag show to start increasing visibility. I grew up in Hemet, and when I came to teach at MSJC, I was worried about being out in the classroom and whether this campus would feel safe because of my experiences in this area. I wanted to increase visibility so folks could feel more included.
Once we did the drag show, we were able to show that there are actually enough people who care about this to support spending the money and doing the event programming. It's also important because a lot of our students don't have access to spaces where they can get queer culture. Often those spaces are bars, so our students who aren't 21 can't go there. In our district, there weren't any drag shows until very recently. We wanted to bring something here for our students.
What else is MSJC doing to support the LGBTQ+ community?
The LGBTQ+ Advisory has worked with instructional services to make a gender neutral catalog. We got single stall bathrooms reassigned to be gender inclusive. All of our new buildings, including the two new STEM buildings, will also include all-gender restrooms. This month we're working to bring language to the Academic Senate for our syllabus checklist, so that faculty have some best practices for making their syllabi more inclusive. We created new courses on campus. Gender and Sexuality in Literature was taught for the first time last spring. Next fall, we'll have Introduction to Gender, Sexuality and Queer Studies for the very first time. We're really excited to start bringing more classes like that to the campus. There are more faculty and staff that are part of the LGBTQ+ community. The more that we have that representation in our faculty and staff, the more we reflect our students.
What can LGBTQ+ students or students who are allies do to be supportive? 
Attend our events, because the more that events are attended, the more likely we are to be able to keep them coming and justify using the resources to do it. Get involved with our student groups. There is the Sexuality and Gender Alliance (SAGA) at the Menifee Valley Campus (MVC), and we're relaunching the LGBTQ+ Collective at SJC. Advocacy to the Student Government Association (SGA) helps. The more we hear from our students the better, because not having access to students is one of our biggest challenges. Also, just be allies in all spaces. If students are part of other groups, encouraging events or discussions that are intersectional can be really helpful.
What is in the future for MSJC Pride?
We hope to have some programming around transgender visibility in the spring. For next year, we want to include more student-led events, as well as more fun and celebratory events. The drag show will be back, Pride will be back, and we hope to continue to expand and make it a really welcoming time for our students.
Information
MSJC's Sexuality and Gender Alliance (SAGA) meets every Tuesday from 5:30-6:30 p.m. through Zoom.
Those interested in seeing more performances by Jazmyn Simone-Échelon can find them hosting Sickoning Saturdays VIP Nightclub in Riverside. They also host Champagne Saturday Brunch at Hamburger Mary's in Ontario.
King Phantom performs at Strut's Mimosa Girls Drag Brunch in Costa Mesa on Sundays. Their Hocus Pocus show runs until Oct. 30.
Nebuer Styles hosts at VIP Nightclub every Thursday night. They will be hosting Halloween Bash 2022 on Oct. 31 at 7 p.m.
Madame LaQueer from RuPaul's Drag Race appears at the Murrieta M Lounge the last Wednesday of every month. They will be hosting a Queen of Night horror movie screening on Oct. 26 at 9 p.m.
For more information visit: https://msjc.edu/pride/