Students Elate as Open Mic Night Returns to MSJC
The Creative Writing Club at Mt. San Jacinto College hosted the first Open Mic night held at the Temecula Valley Campus on Nov. 15. Open to all students, the club invited creatives to share their poetry, short stories, songs, monologues, music, and comedy.
This event marked the relaunch of Open Mic nights at the college since campus closures forced clubs to move online during the height of the COVID-19 pandemic.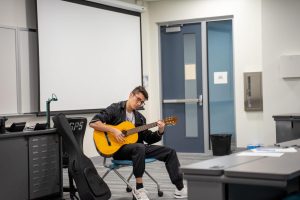 Juan Pablo Lopez Aguilar, a psychology major at MSJC, performed several songs on the acoustic guitar.
"I've been playing for about seven years," said Aguilar. He draws inspiration from Estas Tonne, a Ukrainian musician who embraces improvisation as a means of finding uniqueness and variety in music. This style of music gave Aguilar the freedom to learn without feeling constricted by repetitive memorization and attempts to correct mistakes. 
"The first half was his composition, the second half was completely improvised… that is what I usually do," said Aguilar, after playing a song by Tonne.
Although busy with his academic responsibilities as a member of the Honors Enrichment Program and Phi Theta Kappa Honor Society, Aguilar still prioritizes time to also practice playing the electric guitar.
Other performances included singing and readings. Student Michael Cha excited the audience with a recital of Rick Astley's infamous "Never Gonna Give You Up." Ryan Blankenbaker, who was performing publicly for the first time that night, rapped multiple of his original songs. He and Aguilar later collaborated to do a freestyle rap battle. 
The evening came to a close with a reading from professor Susan Winslow, who shared a piece inspired by the solace and hope that she finds at the beach. Winslow hopes to share the peace she found there, which helped her while she healed from a serious injury, with others who may also need it.
MSJC students can look forward to more events like this in the upcoming spring semester. The Creative Writing Club is currently participating in the annual National Novel Writing Month challenge to write 50,000 words in the month of November. 
The Creative Writing Club is a space for all writers to cultivate, develop, and hone their creative writing skills. Join them on Thursdays from 11:30 a.m to 12:30 p.m. and Fridays from 6 to 7 p.m. on Discord.
For more information, contact Susan Winslow at [email protected].
Contact the club directly at [email protected].