Farewell Yellow Brick Road – Elton John's Final Tour Review
On Nov. 17, 19, and 20, Sir Elton John performed at Dodgers Stadium in Los Angeles, California. It was the final few concerts of the North American portion of his final tour, "Farewell Yellow Brick Road World Tour." The farewell tour had already been rescheduled, due to the pandemic, so it was even more meaningful attending the event now. Forty-seven years prior, it was John's first performance at Dodgers Stadium in October, 1975. The historical moment was revived decades later with John, his energy, and his greatest hits. John's band included Davey Johnstone, Nigel Olsson, Ray Cooper, John Mahon, Kim Bullard, and Matt Bissonette. The Saturday show on Nov. 19 was filled with active engagement, bright lights, and fans dressed in unique Elton John costumes.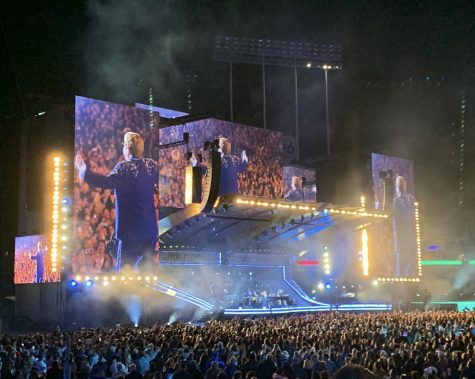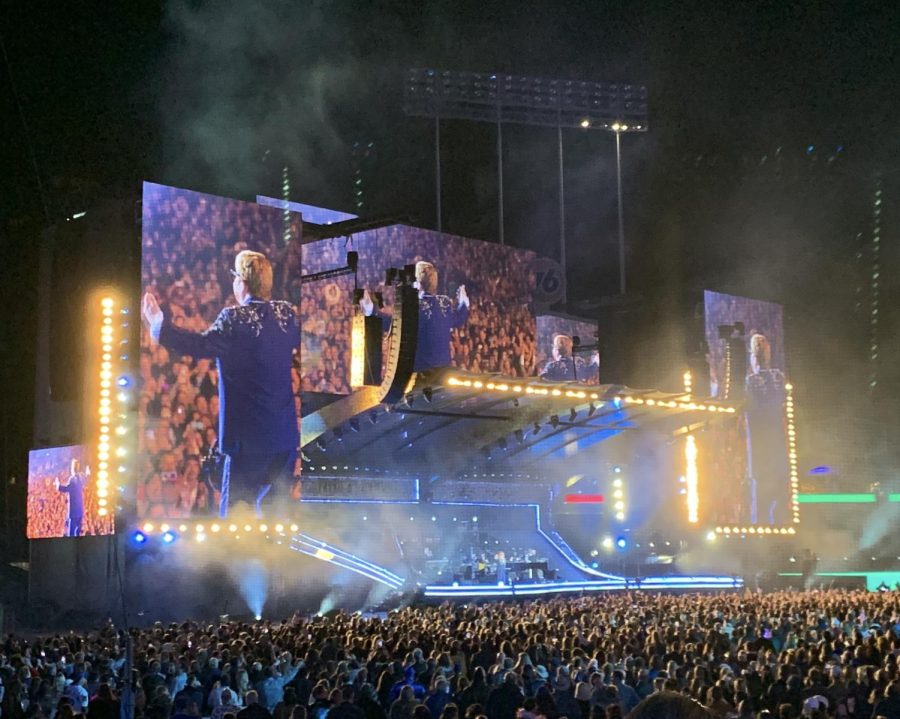 The concert started with a moving performance of "Bennie and the Jets," one of John's classics. With thousands of fans anticipating his arrival on stage, everyone grew quiet. The stage was dark until John played the first notes on the piano. Each note was accompanied by bright lights and the show had begun. With the stadium filled with fans of all ages and backgrounds, John came out with energy, in a tailcoat suit with a rhinestone collar and his classic bejeweled, tinted glasses. 
After a few starting songs, John shared with the audience his fondness and appreciation for the late Aretha Franklin, whom he dedicated "Border Song" to. One of the most heartfelt, interactive aspects of the concert were the massive screens placed on either side and above the stage for all fans to see. Photos and videos played throughout each song. For this tribute song, a photo montage was shown of Aretha Franklin. The emotion and gratitude John felt for Franklin was touching, as her contribution to soul and the music industry as a whole inspired many.
A shift in the concert's tone occurred just before "Rocket Man." John briefly left the stage as the screens and lights darkened. He  reappeared in a different blue bedazzled suit and glasses for the "Rocket Man" song. The combination of the acoustics in Dodger Stadium, outer space lights and video elements, and John's cosmic performance was out of this world. 
Yet another notable moment of the show was when Elton John sang "Don't Let the Sun Go Down on Me." John dedicated this song to all of the band members he had lost throughout his time on stage for many decades. He named bassist and vocalist Dee Murray, drummer Roger Pope, keyboardist Guy Babylon, and bass guitarist and vocalist Bob Birch. John's appreciation and positive tone was reflected amongst the crowd cheering back. 
After a show filled with uplifting and emotional songs, John played several exciting fan-favorites in a row. John particularly shouted out "Crocodile Rock" as a dedication to all of his fans. After John sang the chorus, he gave the microphone up for the whole crowd of thousands during the post-chorus, filling the stadium with harmony. 
The final song, prior to the encore, was "Saturday Night's Alright for Fighting." This was a notable ending, as the crowd attending the concert on Saturday could connect to the song on a memorable level. 
The encore was filled with one of John's newest hits, "Cold Heart" (PNAU Remix) featuring Dua Lipa, one of John's first hits, "Your Song," and the song the tour is named after, "Goodbye Yellow Brick Road." He changed into another bedazzled outfit, yet this time, it was a glittery Dodgers robe and baseball cap.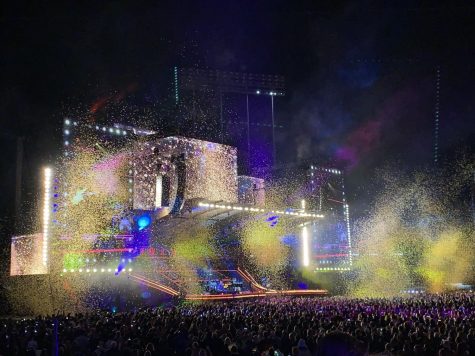 Personal Favorites: 
Apart from John's most well-known songs, "Have Mercy on the Criminal" was a powerful song that stood out amongst the others. Whereas the other songs were presented with an upbeat or even more mellow tone, this song had a dark and almost vengeful tone. It was a great example of the fantastic range that is John's music. 
Another favorite included "Your Song," one of John's original hits. As his second to last song, fans of John's music from the start were all standing and taking in the emotional moment. As the song came to an end, John called out, "that is your song Los Angeles!" 
As the concert came to a conclusion, "Goodbye Yellow Brick Road" was played with a montage of photos of John's life, music career, and official accomplishments. Just before the song began, John wished his fans, "love, and health, and happiness, prosperity, and farewell…" He thanked everyone sincerely and ended the show with the tour's titular song. With John off the stage, fans beginning to leave, and confetti falling, ethereal music started playing with John's voice singing, "My gift is my song, and this one's for you," lines from his first single, "Your Song." 
At the concert on the following day, Dua Lipa, Brandi Carlile, and Kiki Dee made live appearances. The concert on Nov. 20 was live streamed on Disney+ for others to see. 
Final Note: 
John holds a lasting impact on his fans as a whole that will be remembered and cherished always. The colorful visual and auditory experience of his concert was appreciated by all generations. Attending his final tour is a significant event in music history. Sir Elton John's tour ends well into 2023, but his music will continue to be played, sung, and danced along to for years to come. 
Setlist: 
Bennie and the Jets

Philadelphia Freedom

I Guess That's Why They Call It the Blues

Border Song 

Tiny Dancer 

Have Mercy on the Criminal 

Rocket Man (I Think It's Going to Be a Long, Long Time) 

Take Me to the Pilot 

Someone Saved My Life Tonight

Levon 

Candle in the Wind

Funeral for a Friend/Love Lies Bleeding 

Burn Down the Mission

Sad Songs (Say So Much) 

Sorry Seems to Be the Hardest Word 

Don't Let the Sun Go Down on Me

The Bitch is Back 

I'm Still Standing 

Crocodile Rock 

Saturday Night's Alright for Fighting 
Encore: 
Cold Heart 

Your Song 

Goodbye Yellow Brick Road