Hook, Line, and Syncher
How TikTok Changed Our Musical Exposure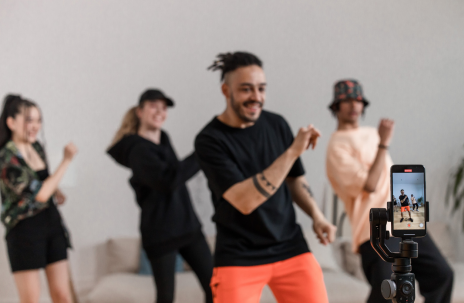 Discovery with Every Swipe
Boasting one billion users, TikTok has become the precursor of what is hot and what's not. It is a platform with an algorithm more tenured social media platforms like Facebook, Instagram, and YouTube have scrambled to match with their new features, including Watch, Reels, and Shorts. TikTok's grasp of pop culture has driven songs onto the charts that a decade ago never would have gained such traction.
The platform has become a Petri dish of musical talent, with users grazing samples of undiscovered artists of all genres and pop sensations swipe by swipe on their For You Page. "Oh No," by Kreepa, has been a top song on the platform since 2020. It is featured in 8.5 million videos that have collectively accumulated billions of views because of its simple, memorable hook, "oh no, oh no, oh no no no no no no". "Monkeys Spinning Monkeys," by Kevin MacLeod, is a silly instrumental that has been played in over 8 million videos, most of which are silly and charming.
Along with silly songs, oldies such as "A Sunday Kind of Love," by Etta James, and "Put Your Head On My Shoulder," by Paul Anka, have resurfaced and are played over millions of videos of everything from date ideas to breakfast recipes. TikTok's model of short digestible videos traditionally paired with a fitting song has resulted in an entirely unprecedented variety of songs becoming popular once again. The ease at which someone can upload a video, as well as the digestible style of content that the app favors, makes the social media platform a hub of opportunity for musicians wanting to organically develop a fanbase.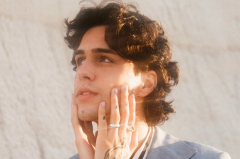 Independent artist Stephen Sanchez is a prime example of a casual musician's life changing overnight through the utilization of the app. In 2020, Sanchez posted an original song titled, "Lady By The Sea", which garnered over a million views and a flood of support. Incidentally, the video was seen by Jeremy Zucker, who then offered to help Sanchez professionally produce the song. Sanchez then went on to sign with Republic Records. Sanchez then released the hit single "Until I Found You," which has been used in almost half a million videos on TikTok. However, it has transitioned to using more traditional means of traction as a musician. Upon uploading his discography to Spotify, Sanchez amassed over 400 million plays of his single "Until I Found You" and won the hearts of 20 million followers, eagerly waiting for the artist to announce a highly anticipated tour.
None of the aforementioned artists could have anticipated the attention their work received because of TikTok, and now major record labels are recognizing the potential TikTok has for recreating the industry's music marketing model altogether. Universal Music Group, Sony Music Entertainment, and other major record labels have been watching the algorithm of the app very closely and have been planting their own artists as unassuming TikTokers for years now.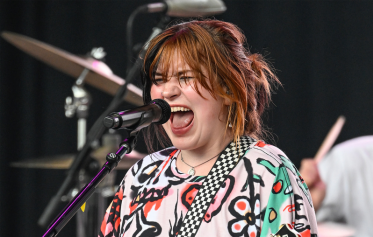 The most notable example of this would be avid TikTok user Taylor Gayle Rutherford, who goes by stage name Gayle. Gayle released the hit "abcdefu," which has been dubbed over 2.2 million videos on TikTok and has been streamed 830 million times on Spotify. Gayle and her record label, Atlantic Records, have both faced criticism for manufacturing her seemingly "overnight sensation" persona. In a Q&A video, Gayle asked fans to send her ideas for a song; a commenter replied with,"breakup song using the alphabet," and within two weeks, "abcdefu" was available across all music streaming platforms. It was later revealed that the comment was posted by a marketing employee of Atlantic Records, who has denied the manufacturing of the moment. Regardless, this is only one instance of record labels receiving attention for utilizing TikTok's algorithm for publicity and attention for their artists. There have been many copies of the app's structure, as with other platforms; however, TikTok's original style of musical pairing with short videos is on its way to becoming the paramount way music listeners discover new artists. Gayle's "abcdefu" spectacle was not the first incident wherein record labels and their marketing teams were caught red handed trying to take an advantage of the organic appeal of the app, nor will it be the last. 
While it may be easy to shake heads in disdain to the idea of a large corporation taking advantage of what in its infancy, was a level playing field, I say we should all live and let live. TikTok is designed to be addictive; it tracks the users keystrokes, engagement, and active viewing with precision of the highest caliber. The very nature of the "For You Page" is to discover new creators that are catered to the user, based on their own engagements. This makes the app not only a form of entertainment, but also, a vessel for artists, marketers, and creators alike to use a one minute video to grab the attention and loyalty of a potential fan or customer. 
Therefore, if a song by an artist with "ins" in the industry like Gayle appears on your For You Page, evidently, in its all knowing curative algorithm. TikTok believes you would like the artist's work. It is unfortunate that aspiring musicians must compete against industry titans like Warner Music Group or Big Machine Record; however, that has always been the case! Writing a chart-topping hit takes time and practice, and though a person can transition from an aspiring musician to a pop sensation overnight, it takes great tenacity, resilience, skill, and luck to become a star. 
The duality of having an app that presents the user with videos curated to their existing interests, while still reaching out and inferring how the user will engage with content wildly new to them, is fascinating. One could possibly compare it to the radio, but never once has a person turned on the pop station and been met with The Miami Boys Choir, a Jewish orthodox pop group based on the Miami School Of Jewish Music. The trends and waves of interests that take over the site truly are bizarre and can seem completely arbitrary, so long as an artist has a catchy hook, meme-able lyrics, or a beat to dance to. They have just as much potential to go viral as artists backed by music industry titans.