Music is Therapy
The Music Industry Moves on Musical Mental Health Programs
If you have ever met someone who hates music, they probably do not have a phone, radio, record player, iPod,
Walkman, cassette player, or any other music-listening device. With the countless number of years that music has been cherished around the world, there are an infinite amount of songs to enjoy. Whether you listen to every genre or one genre, there is a guarantee of falling in love with music. For many, music can provoke certain moods and emotions. From scratching the surface of "happy" and "sad" songs, to going deeper and finding songs that are relatable to whatever you may be going through, music is a friend that holds immense value. 
In an interview with America's Got Talent golden buzzer recipient and American Idol Top 10 Finalist, Makayla Phillips, she explained her struggles with anxiety and insomnia. Phillips uses music as a way to conquer them: "The only way I could go to sleep was to write whatever was in my head. The only way I could calm myself down was by singing." She passionately told me about how music is a saving grace for her: "I've used writing and singing as a coping mechanism my whole life. During the worst times of my life, the one thing that always pulled me out was music, whether that be writing, singing, or just listening."
In my personal experience, music has always been a huge motivation in my life. I have been an artist in the recording industry for five years now, and I am thoroughly convinced that it is the biggest factor that has kept me sane. As a singer/songwriter, I allow whatever is pent up in my thoughts to come out through my lyrics. Working with my team, I get the opportunity to explain my stories, and receive feedback. This is a process that allows my problems to be eased with the help of music. One of my biggest influencers and mentors is my producer, Haskel Jackson Jr., who, throughout his career, has collected three Billboard number-one hits and seven Grammy nominations. Haskel specializes in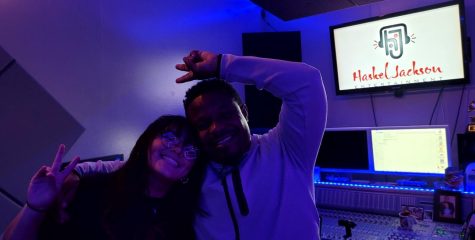 developing small artists, such as myself, and giving them a kickstart in the music industry. He pushes Genesoul Productions artists to truly show who they are in their music and to let go of stress, anxiety, trauma, or anything their minds need peace with. From working with all of the artists, Haskel then got the idea to start a unique program that has been designed to help children, teens, and young adults find therapy through music.
Music for Your Mental Health is a program started by Haskel Jackson in attempts to establish music as therapy to help to end the stigma around therapy and mental health by building strong, therapeutic foundations, as mentioned on Jackson's program website. Grammy-nominated producers and therapists are collaborating to help students create beats and write lyrics, as well as start group discussions on mental health. This program is designed to enhance self-esteem, social and communication skills, and much more. In an interview by Wish USA with Morgan Ashley about Music For Your Mental Health, Haskel states, "We try to hit it from an angle of writing, spoken word, rap, creating music, music production, using these tools to get your feelings out and your thoughts out."  For more information on this program, visit musicforyourmental.org.