Beach Volleyball is in Full Swing at MSJC
Did you know that MSJC has a women's beach volleyball team? The Lady Eagles held their first home match of the season on the Menifee Valley campus against RCC.
In that match, they picked up a 4-1 non-conference win. The Eagles #1 pairing of Alicia Vasquez and Chloe Mata rallied back after losing the opening set of their match to win 19-21, 24-22, and 15-7 to help the team set the tone for the rest of the day.
Mckenna Conklin and Trysta Vincelli also picked up a win in the #2 matches as they won in straight sets 21-6 and 21-12.  The duos of Iris del Valle and Laelanie Isbell at #4 and Audrey Underwood and Tracy Blanchard at #5 also picked up wins for MSJC.
The only loss for the Eagles on the day came in a hard-fought match at #3 where the RCC pair was able to defeat Kennidy Martin and Kalia Anady 22-20, 19-21, and 11-15.
Their season began in January with their first match on the 27th against RCC. Picking up a 4-1 win at El Camino College at the Rancho Volleyball club.
On March 4th the Eagles had another home match and lost to College of the Desert with a match score of 3-2. They played and lost to the Mesa Arizona Thunderbirds with a match score of 4-1.
The Eagles volleyball team has a current record of 4-6 for the season.
The next home game is on Friday, March 10th vs Ventura at 10 am and Cerritos at 12pm.
Here's the link to their 2023 schedule of games if ever interested in going to see them play!
https://msjcathletics.com/sports/beachvball/2022-23/schedule 
The MSJC Beach volleyball team is coached by their fearless leader and head coach Serrina Eason with help from her two assistant coaches, Britney Haney, and Holley Pearson.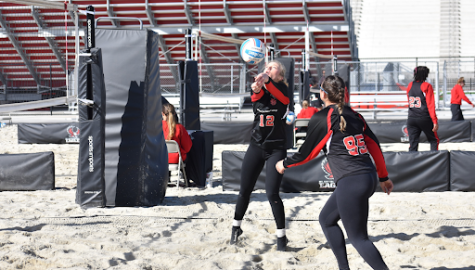 The Roster for this year's Beach Volleyball team consists of 13 players:
#1) Kalia Anady, freshman playing as a setter.
#2) Tracy Blanchard, freshman playing as a middle blocker.
#3) Camryn McCullough playing as a defensive specialist.
#8) Lauren Cummings, freshman playing as a middle blocker.
#10) Iris Del Valle, sophomore playing as a middle blocker.
#11) Laelanie Isbell, sophomore playing as libero and defensive specialist.
#12) Chloe Mata, sophomore playing as libero and defensive specialist.
#16) Audrey Underwood, sophomore playing as a Middle blocker.
#20) Trysta Vincelli, freshman playing as a setter.
#21)Mckenna Conklin, freshman playing as an outside hitter/opposite hitter.
#23)Kennidy Martin, freshman playing as a middle blocker.
#24) Ava Ferrera, freshman playing as a middle blocker.
#95) Alicia Vasquez, sophomore playing as an outside hitter/opposite hitter.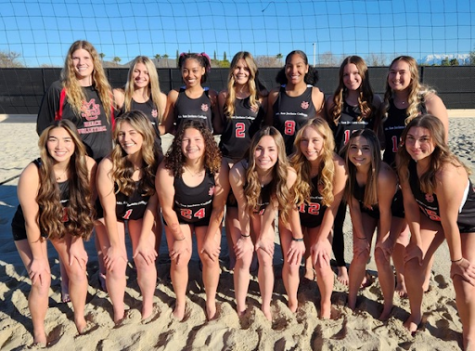 On the 22nd of February, 2023 I had the pleasure of attending their first home game and interviewing some of the lady Eagles.
Meeting place: Mt San Jacinto College Menifee Valley Campus
Attendees: Destani Jordan=DJ (Interviewer)
MSJC team players= MSJCTP (interviewees) 
DJ: Thank you all for taking the time to answer a few questions on my behalf of the Talon News. Great game out there today!
MSJCTP: Thank you for coming out today and watching us, I know it is very cold so we appreciate you staying.
DJ: Absolutely, glad to be here! So I won't take up too much of your time in this cold. I just wanted to ask a few questions. Starting with how would you describe your team bond?
MSJCTP: I think our team has really great chemistry, really like a family. We're all just like sisters! We do a lot of bonding trying to make sure it stays strong throughout the season.
DJ: How do you guys feel you better cultivate that chemistry? Do you pray before games? You go out to eat, you hang out?
MSJCTP: We actually do this thing called team dates. That's actually kind of cool. It just helps us all to bond with each girl individually. We try to swap out with someone new every week. So we're all taking out time in our day to be with that person to get to know them outside of the volleyball court. We all try to have fun and be ourselves!
DJ: So what would you guys say separates your team apart from others?
MSJCTP: I would say that we all just have a common goal. We lean on each other for support, have the same commitment. We all show up everyday at the same time, hold each other to a standard! To where other teams might let each other lack off some days. Assuring we're always on the same page. We're strong with no teammates left behind! Also giving credit to our coaching staff! I feel like we have the best coaches, they go out of their way to bring different programs and things to help better us as a team. They help hold us accountable and better our work ethic. I feel like you see a lot of other schools come in and it's kind of obvious they don't put in the work ethic that we do. We work out a ton, and they're always pushing us to be our best! Outside of Volleyball they emphasize and help us to be good people overall. Like we're on time for practice, that's how you get a job right? So again it's not just about volleyball, it's really building our character as people to help us get through society that's for sure!
DJ: Awesome, well thank you that pretty much sums up our interview. You honestly answered my last question in regards to how you feel you could be a better team and overcome challenges. You guys seem to be doing amazing with creating and maintaining chemistry as a unit! Again you guys did great out there today!
MSJCTP: Thank you, and thank you again for coming out!
DJ: Absolutely, it was really fun watching. I definitely saw the team bond and vibes. I'm like yeah ok this a family (laughs)! Well ok you guys have a great rest of your day!
MSJCTP: Thank you, you too!