Dangerous Amounts of Snow in San Bernardino Mountains Affecting Crestline Residents
The winter storms that have passed through much of Southern California have largely affected San Bernardino County, particularly the mountain area of Crestline. Located in the San Bernardino mountains, Crestline is home to roughly ten thousand people, many are local businesses, year-round residents, and residents who visit per the seasons. Crestline also surrounds Lake Gregory, a pleasant lake nestled in the San Bernardino National Forest.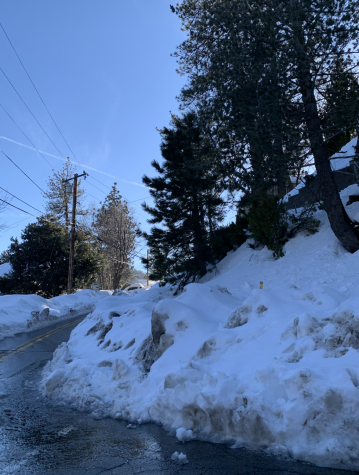 The winter storms that began roughly two weeks ago have had lasting effects on the area of Crestline, including the effects that melting snow will likely bring in the coming weeks. The large amounts of snow have created a dangerous situation for residents. The significant amount of snow has caused the pileup of snow to trap residents, destroy buildings, and cover cars entirely. Some residents have left their shovels above the layers of snow covering their cars, whereas others have spray painted the snow indicating under the pile to be cautious of plowing the streets with cars underneath. 
The damage from the snow has caused many homes and buildings to be destroyed. A central place of Crestline, Goodwin's Market, was among other buildings that collapsed under the snow. Despite this, a figure of the community, Goodwin's Market continues to send out daily food distribution updates on their Facebook page. Crestline Cafe is also among other local businesses, as shared on their Facebook page, that are partnering to get more food and supply donations to the Crestline Community.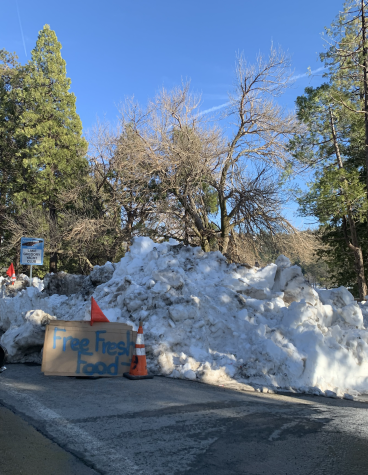 With a lack of food resources and the capability to get help, the Crestline community has come together to help one another out. Local communities are also reaching out to aid any residents with resources and tools. From providing hay for animals and looking for lost pets to shoveling out the snow and providing shovels, the community has come together to help themselves, the community, businesses, and local organizations, with coordination efforts being shared on social media. 
Prior to March 6, 2023, previous methods of accessing the highways and roads up and down Crestline were incredibly restricted. There were limited windows of opportunity where residents were escorted by California Highway Patrol up towards Crestline. However, as of March 6, 2023, Cal Trans District 8 has opened up certain highways toward Crestline to residents only. Proof of residency is required to pass through. Cal Trans has provided updates over the weeks via their Twitter and Facebook on how to reach Crestline and neighboring communities. 
Additionally, San Bernardino County is providing damage assessment applications on its website for residents to report damage online. 
Just a week ago, Governor Gavin Newsom declared a state of emergency to thirteen counties, including San Bernardino County, due to severe winter storms. Included in the state of emergency address, Cal Office of Emergency Services, Caltrans, and the California Highway Patrol are amongst other organizations trying to assist and provide services to those in need. 
With more buildings and lives affected by the winter storm each moment, the community continues to work together to help one another out, as the snow is being plowed and will slowly melt. With a delay in awareness and assistance of the situation, locals have continued to show what a strong community means, in the mountain area of Crestline.