Leipzig: an Artistic and Academic City
Leipzig, an eastern city in Germany, is known for many things. It is a large university town where students from all over the world come to study various subjects. It was a city where influential peaceful protests occurred against communist East Germany under the German Democratic Republic. However, it is also historically and modernly known for being the center of arts, including and not limited to, music and literature. 
Notably, in the heart of Leipzig's city center are the Gewandhaus Orchestra on Augustusplatz and the Leipzig Opera. Yet the musical history can be traced back to the Thomaskirche, St. Thomas Church, only several blocks away. The Thomanerchor, St. Thomas Choir, in Leipzig is a renowned boys' choir established centuries ago. A prominent Thomaskantor that has been celebrated throughout history is Johann Sebastian Bach. Apart from Bach, Leipzig is known for many well-known virtuosos throughout history, including Richard Wagner and Felix Mendelssohn Bartholdy to name a few ("Leipzig: Where the Music Is Always Playing"). Today, you can go and visit the Gewandhaus, St. Thomas Church, and many other places where university and professional orchestras play the recorded classical music of various composers throughout the year. 
I had the pleasure of attending an academic concert in the Great Hall of the Gewandhaus late last year, featuring pieces from Felix Mendelssohn Bartholdy, Wolfgang Amadé Mozart, and Johannes Brahms- a favorite of mine that night. Director Bennet Eicke and solo pianists Marie and Florentine Lehnert were amongst the young talents of the academic orchestra that continue to be a promise of classical music for the future. 
Apart from Leipzig being a hub for classical and orchestral music, it is also abundant in literature and arts. Johann Wolfgang von Goethe is among many other poets and authors in history who wrote in Leipzig. Arguably Goethe's most well-known writing The Sorrows of Young Werther was published in Leipzig, Germany in 1774. ("Sorrows of Werther"). Academic studies are still prominent today, with the University of Leipzig greatly a part of the city center's education. 
Another encouraging place in arts and literature is the Deutsche Nationalbibliothek, German National Library. According to Britannica, Leipzig has several libraries, including "the German National Library and the Comenius Library, which is Europe's largest library specializing in education" (Britannica, The Editors of Encyclopaedia). 
There are also a plethora of museums to visit, from history to art. Just past the market center in the city of Leipzig is the Museum der Bildenden Künste Leipzig, or the Museum of Fine Arts Leipzig. Not only are the sculptures, paintings, and artistic pieces from early in history to modern works fascinating, but the architecture of the building itself enhances the experience as well. The tall ceilings, glass frame of the building, and concrete and wood additions almost stand as an art piece alone.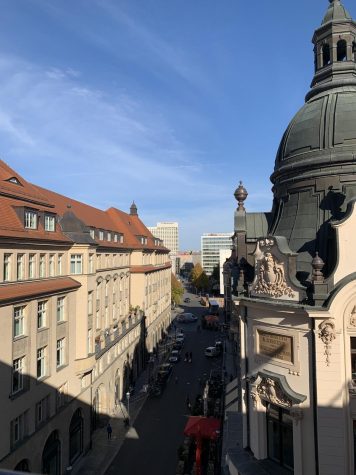 The city where I was born, Leipzig, is plentiful in opportunities for learning and creativity. Recalling my brief week there just months ago, I was exposed to the rich history, culture, and leisure that is prominent throughout the city. In each place I went, there was always someone learning and practicing their creative art form. Whether it was walking into the Thomaskirche and hearing an organist practicing or listening in on a student practicing a classical piece with a teacher at the University of Music and Theatre Leipzig, being on the listening side of these experiences was a way to appreciate such a long line of musical and artistic ability. Although there are many places that present arts and literature uniquely, Leipzig provides a particular image of academia and creativity in a way I am most familiar with and can appreciate.  
Sources: 
Britannica, The Editors of Encyclopaedia. "Leipzig". Encyclopedia Britannica, 9 Sep. 2022, https://www.britannica.com/place/Leipzig-Germany. 
"History of Ideas." YouTube, uploaded by The School of Life, 13 Feb. 2015, https://www.youtube.com/watch?v=OiRWBI0JTYQ&t=188s. 
"Leipzig: Where the Music Is Always Playing – Leipzig: the City with an Appreciation of Music." Germany Travel, Deutsche Zentrale Für Tourismus E.V., 8 Mar. 2021, https://www.germany.travel/en/cities-culture/leipzig.html#:~:text=Also%20second%20to%20none%20are,Leipzig%2Dborn%20composer%20Richard%20Wagner. 
"Sorrows of Werter." Sorrows of Werter, English UPenn, http://knarf.english.upenn.edu/V2notes/werter.html#:~:text=Die%20Leiden%20des%20Jungen%20Werthers,anonymously%20in%20Leipzig%20in%201774.