Month of the Military Child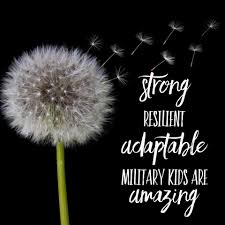 This month we celebrate our military kids worldwide as they step forward and honorably serve their country by supporting their parents who protect and serve the nation. "Military brats" are some of the toughest, most patient, and most respectful individuals known. They give up birthdays, holidays, first days of school, first games, graduations, and more special moments so their parents can deploy. They sleep every night knowing their parents are doing the best thing they can for our country but wishing they had them back home, and some unfortunately never get their wish. There is a poem written by Katelyn Sullivan that explains so much of what military children go through on a daily basis: 
"The Military Child"
They wear the purple shirts, and get celebrated in april
But behind all the smiles is a child who is able, 
Able to move every 2-3 years saying bye to friends, teachers, and peers.
Able to stay strong when mom or dad's away.
Knowing that the countdown gets shorter every day
Able to hold their camo bears close at night
To help them feel like mom or dad is right by their side
Able to call family millions of miles away to tell them of adventures, sports and good grades.
Able to adjust to changes happening all around 
Respectful and resilient never looking down
Able to stand at attention when the anthem plays, knowing it's more than a song, it's sacrifices made
Able to stand behind their parents and support what they do
Knowing they keep the ground we walk on safe for me and you.
This lifestyle has taught them more than how to be independent, loyal and brave.
It's taught them how to love, be resilient, and give grace
April might be the month of the military children.
But to them it's their everyday life and the world they just live in.
by Katelyn Sullivan
This year I had the honor of watching my own son make those sacrifices. He has watched his dad walk away to return to training three times before the age of one. He came into this world to meet his dad over video chat, got to hug him for the first time at two and a half months old, and was lucky to have him home for his first Christmas. For some, this may sound like a lot, but for him and many other children, this is normal. April is more than a month to thank military brats. It's a time to learn about the sacrifices they go through and show your support for them. To all our military children out there, we thank you and your parents for your service to this country, whether you are currently serving, retired, or have a gold-star family.