First Female President?
That's the goal for Nikki Haley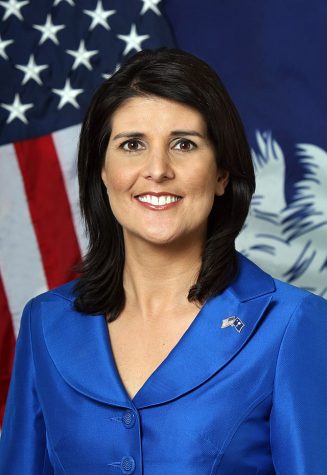 There were speculations of Nikki Haley running for president and on  February 14th, 2023, she officially announced her intention to run for president. Nikki Haley has become the first notable name to officially challenge former president Donald Trump in the 2024 Republican presidential primary. While Nikki Haley has name value, beating Donald Trump is going to be a tough hill for her to climb. She currently sits at 4.3% in the most recent poll, which is 4th behind Trump, DeSantis, and Pence. If Nikki Haley were to overcome these numbers and win the Republican Party primary, she would become the first female and person of color to do so.
Before her current run for president, Nikki Haley served as the first female governor of South Carolina from 2011-2017. Haley then became the first Indian-American to serve in a presidential cabinet when she served as ambassador of the United Nations from 2017-2018. Haley was appointed as UN ambassador by former president, Donald Trump, who is now her opponent. As governor of South Carolina, she made the decision to remove the Confederate flag in South Carolina after the Charleston church shooting. This decision garnered national media attention and was met with a lot of praise from both sides of the political aisle. Later that same year, Haley was on Time Magazine's 100 Most Influential People list
Nikki Haley from a policy standpoint has the same views as most other Republicans. She is strongly pro-life but does not support a federal ban on abortion unlike many of her colleagues. After Kansas overwhelmingly voted to keep abortion rights in the Kansas constitution, Haley said, "As much as I would like Kansas to be pro-life, the people decided." On issues of foreign policy, she was an outspoken critic of China, Russia, North Korea, Cuba, Venezuela, and Syria for their human rights abuses during her time as a UN ambassador.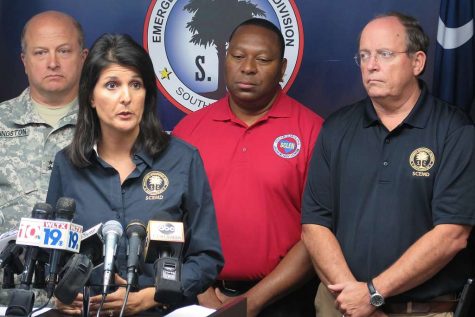 The concern that people have of Haley is that she often flip-flops her stance on Donald Trump. While she was campaigning for Senator Marco Rubio's campaign, Haley said,  "Donald Trump is everything I taught my children not to do in kindergarten." After Trump became the Republican nominee, Haley stated that she was not a fan of Trump, but was going to vote for him. Despite not being a fan of Trump, Haley served under his administration as a UN ambassador. In 2020, Haley spoke at the Republican National Convention and fully endorsed Donald Trump, saying that Trump has "always put America first." Following the January 6th attack, Haley criticized Trump, and said that "he let us down." However, despite the criticism Haley gave to Trump, she said that she would support Trump and stand down in 2024 if Trump was to run. Now Nikki Haley has officially declared herself as Trump's first notable Republican challenger. If Nikki Haley plans to win the Republican nomination, she will have to take a side in regard to Trump.