Record Store Day 2023: Tips and Tricks for Next Year
Record Store Day (RSD) is a gathering of independently-owned record stores as a way to come together and celebrate its unique culture, where artists release special-edition vinyl, CDs, and various promotional products made exclusively for the day. This year, the highly anticipated, unofficial holiday was scheduled for April 22nd.  Due to the limited amount of stock, many stores prepare by going on the official RSD website to read through and choose their future purchases. The highly coveted release for 2023 is Taylor Swift's 3rd Grammy-winning Album of the Year, "Folklore: The Long Pond Studio Sessions." With only 75,000 pressed copies, this was definitely an item on my wish list.
The Inland Empire is home to many participating record stores, and to celebrate, I went to visit Old Town Records and Spindles in Temecula, CA. On April 22nd, my day began at 4:30 am to prepare and account for travel time. After getting there at roughly 6 am, I have curated a list of tips to survive the day:
– The biggest tip would be to follow your local record stores on social media, including Facebook or Instagram for the latest updates. Some record stores, such as Lou's Records in Encinitas, CA, kept track of their line by posting which groups of numbers they were serving next.
-If you are planning to get a specific record, GET THERE EARLY. Keep in mind that many do camp out for the event. I spoke to a few people in line to gauge an estimate of what time is best to show up. One told me that he got in line at Old Town Records by 2:30 am and was the 11th person there. By 6 am, this was the line I was dealt with: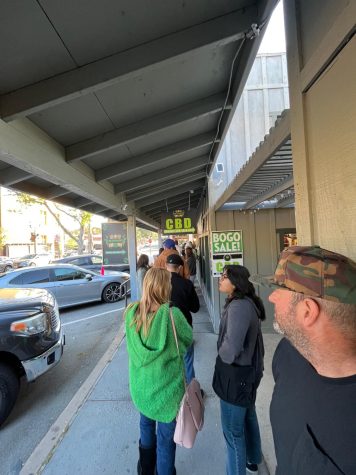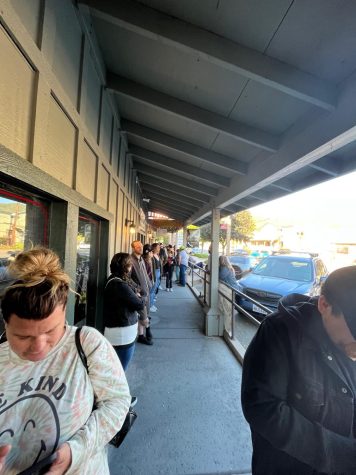 while camping out may not be everyone's cup of tea, getting there 3-4 hours before the opening time is ideal, especially if you are looking for highly sought items.
-Since you are bound to be in line for hours, it is always recommended to bring a folding trail chair, water, and snacks, no matter what time you arrive. If possible, bring a buddy as well to trade places for holding your spot in line for a bathroom break or to get food. If not, DoorDash works just as well, if you skipped breakfast.
I knew that Old Town Records only carried 20 copies of Taylor Swift's "Folklore: The Long Pond Studio Sessions," while Spindles carried 15 copies. I was not lucky enough to get Swift's limited edition record, but I did manage to get a number of other amazing Record Store Day titles such as:
Albatross/Jigsaw Puzzle by Fleetwood Mac
Sold for $20 with only 2,700 copies pressed
Don't Shoot Me, I'm Only The Piano Player by Elton John
Sold for $43 with only 4,000 copies pressed
Live at the Great American Music Hall – 1975 by Billy Joel
Sold for $43 with only 6,700 copies pressed
Record stores typically do their own promotions to celebrate the day. Old Town Records gave out gift bags (while supplies lasted), held a raffle for a full-size record player, sold stickers, buttons, posters, and patches for a buy 2, get 1 free, and gave 15% off for all record players. With that being said, here is everything I managed to snag: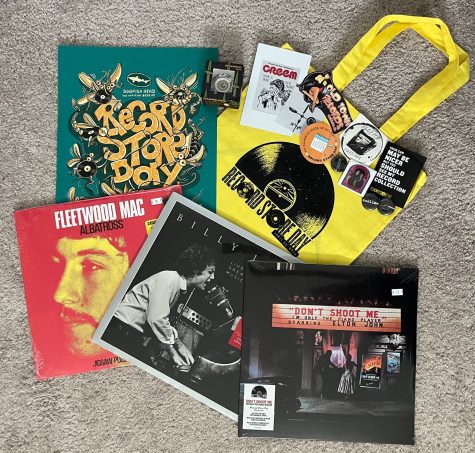 While I did not get all the RSD titles I hoped for, a tip given to me from a few friendly people in line was to log into Ebay between 7-9 am the morning after to view leftover stock from other stores on the east coast, sold at (somewhat) reasonable prices.
For this being my first RSD, I had a lot of fun meeting like-minded people, obtaining physical copies of music, and hearing good music. This is definitely an event that I look forward to in the future, now more knowledgeable and prepared.