Inaugural Lavender Celebration Honors MSJC Graduates
Melissa Luna, Writer/Editor/Outreach Coordinator
May 23, 2023
Mt. San Jacinto College hosted its first annual Lavender Celebration on May 5 at the San Jacinto Campus. The event aimed to commemorate graduates and transfer students and to celebrate their loved ones who have supported them throughout their educational journey. 
Students who attended received a commemorative certificate, graduation sash, and patch featuring the progress Pride flag.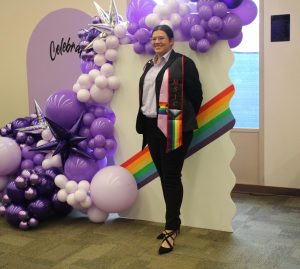 Lavender graduations are celebrated by college campuses nationwide to honor LGBTQIA+ students and to acknowledge their leadership, success, achievements, and contributions to their institutions.
"It was such an amazing event," said Bree/Brayden Alaine, an abnormal psychology and cultural anthropology major who is transferring to California State University, Fullerton. "It was just a beautiful experience." Alaine also serves as the president of the Sexuality and Gender Alliance student club.
Notable guest speakers included MSJC Superintendent/President Roger Schultz, MSJC Board of Trustees President Joshua Rivera, and Assemblymember Dr. Corey A. Jackson. Jackson is California's first Black openly LGBTQIA+ legislator.
"This is the first of many," said Rivera. "I'm excited for the many more that come so we can continue to show our support … not in just voice but in action."
The Lavender Celebration at MSJC originated as part of the college's efforts to support LGBTQIA+ students. On Apr 14, 2022, the MSJC Board of Trustees approved a resolution affirming the District's commitment to the success of MSJC's LGBTQIA+ students.
"We really want to support our students," said Jenner Pickens, co-chair of the MSJC LGBTQIA+ Advisory Committee. "… being such a marginalized population, we really wanted to turn the tide and make sure that they knew that we're here for them, that we're here to support their success."
"Seeing this just come to life is incredible … I know that students feel validated and seen by being here," said Ezikio Lopez, faculty advisor to the LGBTQIA+ Collective student club.
The first lavender graduation was held in 1995 at the University of Michigan. Dr. Ronnie Sanlo, director emeritus of the UCLA Lesbian Gay Bisexual Transgender Center and former director of the then Lesbian Gay and Programs office at the University of Michigan, was inspired to create the event after being prohibited from attending the graduations of her children because of her sexual orientation.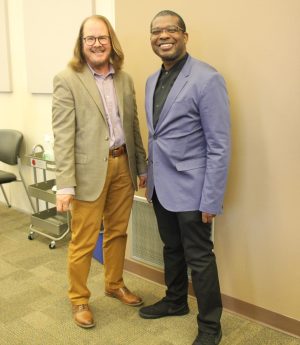 "It's a great way for students to connect with their communities and celebrate with their chosen families, the communities that they identify with," said Ryan Sullivan, co-chair of the MSJC LGBTQIA+ Advisory Committee. "These graduations allow us to express ourselves a little bit more and have a little bit more fun."
As MSJC's LGBTQIA+ community grows, students can look forward to more inclusive events and programs. MSJC has dedicated October as its local Pride Month and March as its local Trans Awareness and Visibility Month. The LGBTQIA+ Collective debuted at the San Jacinto Campus in spring 2023. MSJC is planning to launch a Pride scholars program in fall 2024.
Visit MSJC's website for more information about its Pride initiatives.