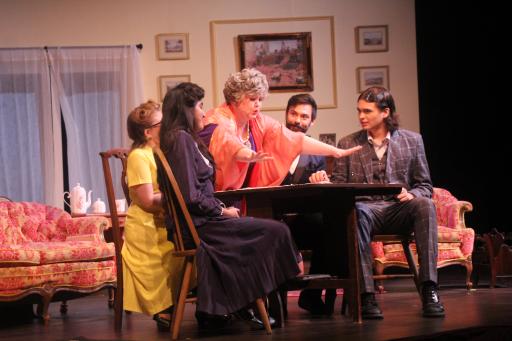 This past weekend was the opening night of MSJC's fall play called Blithe Spirit, written by Noël Coward. After getting the chance to see it, I can say this show blew my mind. As soon as I walked into the theater I was greeted by an amazing set on stage, with finely tuned detail that matched the story's theme. I made sure to go in completely unresearched, so my reaction was completely raw. While the show itself was great, I was also able to have the incredible opportunity of interviewing the creative minds that made it happen. The interviews I had with both the director and the actors are ones I'll never forget!
The Creative Process
This comedic play tells the story of a young gentleman who loses one of his wives and accidentally summons her back as a ghost. Told comically, he must deal with the many complicated aspects of loyalty and marriage. While it may sound simple enough to build something great out of it, it was extremely intricate. The director of Blithe Spirit, Bianca Swan-Finch, spoke about this being different from anything she's done before here at MSJC. As you come to see the show, she says to expect "spooky lighting" and "ghostly effects" on stage. These effects, however, were not so easy as implementing them was quite the challenge. In the end, she stated that what was most important for her was to "add a level of fun for the audience" so they could pull it off right. Casting for a comedy can be quite difficult as well but her approach towards acting wasn't with that thought in mind. She was searching for people to play the characters who would give a truthful performance while relaxed and even a bit playful. Bianca received just that from her actors and even went on to state during the interview that they were actually "ready to run the show much earlier" than expected.
New Actors, New Challenges
After speaking to just two of the actors, each of them surprised me in different ways. Lorenzo Martinez, who plays the lead role of Charles Condomine, told me this was his very first time performing in live theater. To my surprise, I learned that he spent 8 years in the Marine Corps infantry and didn't deny the struggles he faced in his role due to his time in the service. In theater, one must be open to experiencing different emotions, whereas in the military, he says that "formality and strictness" are expected. Being vulnerable was different for him. He expressed that it was a "constant learning experience", however did find joy in everything learned from his castmates and director alike, making it all the better. In his words to sum it all up, "it's new for me but I'm enjoying it".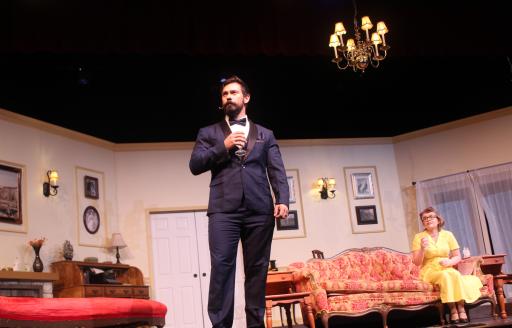 Another actress I interviewed, Rebekah Bailey, plays the role of the eccentric psychic Madame Arcati. She describes it as a "different experience, unlike anything she's ever done before." She is also fairly new to the theater experience as this was her second time performing live in a show and her first ever lead role. With the only acting training coming from Swan-Finch's acting class, her dedication, excitement, and passion were truly shown every time she stepped foot on stage. Being in theater is important to her and even calls it "family" just in the short amount of time she's been involved in this performing art. 
Story continues below advertisement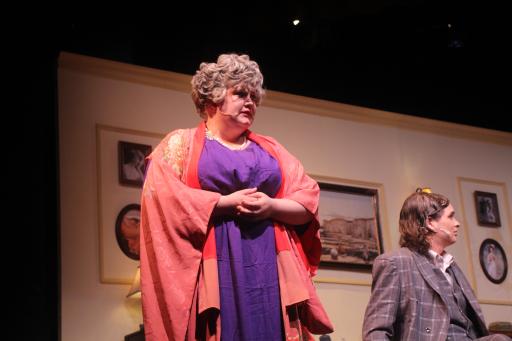 Why should you come to see the play? Actor Lorenzo Martinez urges everyone to come see the show and promises that the theater experience is "An interaction you can't get anywhere else, live theater has a way of pulling people in…the performer-audience relationship is different every single show." Rebekah Bailey describes this production as "hilarious" and "right on time for the Halloween season" because of all the spooky elements, and hopes that audiences will get the chance to experience this masterpiece they've created before the curtain is closed. 
After speaking with the cast and crew, I felt the love and pure enjoyment they all had just by being in their presence. Further, it gives the impression that passion can come a long way when creating a solid show.
When is it??
One of the most extraordinary things about being a part of a theater production is that you will never know what to expect. During this production, I encountered all sorts of surprises from each of the cast and crew and they turned it into something special. For the audiences, it has a little something for everyone in this hilarious, spooky, and fun show. So come to the Mt. San Jacinto Campus Theater in building 1500 for its closing weekend. The dates are Nov. 3rd and 4th at 7:30 p.m. and Nov. 5th at 2:30 p.m. You won't want to miss it!