One-Year Milestone for the Eagle's DREAMers Club
Melissa Luna, Writer/Editor/Outreach Coordinator
March 24, 2023
The Eagle's DREAMers Club at Mt. San Jacinto College celebrated its first anniversary on March 16 at the EOPS office at Menifee Valley Campus. The celebration featured a banquet, live music, games, piñatas, and a raffle.
The event opened with speeches from faculty and students acknowledging those who have worked hard over the past year to create the club and lay down a foundation for future members to build upon. 
"This club would not exist if it wasn't for Erika's work over the past year," said Thai Pham, EOPS counselor and faculty advisor to the Eagle's DREAMers Club, of Erika Ramos, an EOPS Professional Expert and fellow faculty advisor. As a counselor, Pham works to connect undocumented students with EOPS resources, such as one-on-one counseling, academic guidance, and book grants.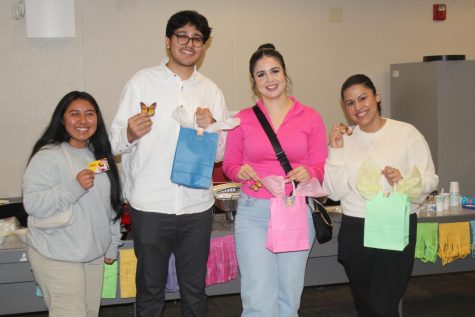 The Eagle's DREAMers Club is a student-led organization aiming to create a safe space for students to build community, advocate for one another, and promote a sense of belonging. DREAMers is an affirmative term used to describe undocumented students. The club also welcomes allies who are documented or from mixed-status families.
"All of us came together," said Caris Sandino, secretary of the Eagle's DREAMers Club. "We became the community that we wanted to see on campus."
"I feel like I belong," said Adriana Uribe Plateros, a diagnostic medical sonography major and vice president of the Eagle's DREAMers Club. "There are many people that decide not to share their identity, and that's ok… we are here to be a voice for them."
The banquet offered a variety of festive foods, including pozole, pizza, a birthday cake, and champurrado.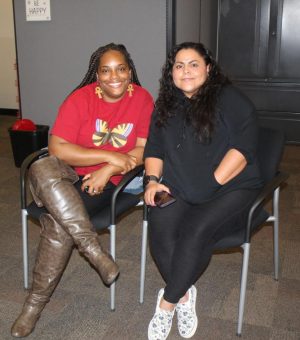 Monarch butterfly imagery could be seen throughout the event, decorating the photo booth and cake. Upon arrival, attendees were asked to sign a butterfly art frame using their thumbprints to remember the occasion. The monarch butterfly represents DREAMers throughout California colleges and universities. 
The cocooned monarch symbolizes students who are "in the shadows," said Ramos, a DACA recipient and formerly an undocumented student. Students who find the community and support that they need are illustrated by the monarch breaking out of its cocoon and spreading its wings.
Monarchs also represent undocumented people due to their migratory patterns. They travel across the border between the United States and Mexico.
"Being undocumented is a scary thing," said Vanessa Sierra, a nursing major and president of the Eagle's DREAMers Club. "We have a lot of… obstacles out there." Some of the challenges undocumented students face are the inability to obtain a Social Security number, not qualifying for federal student aid, and, in some states, being barred from obtaining a driver's license. Undocumented people with an Individual Taxpayer Identification Number can pay taxes but are not authorized to work.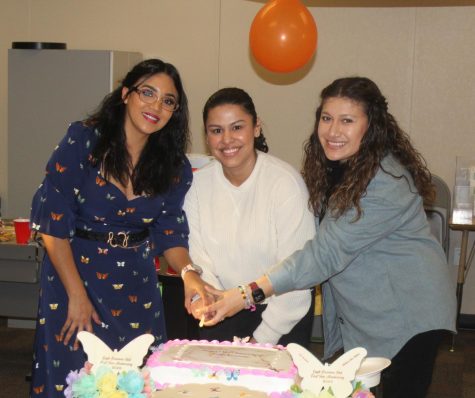 "We provide mental health services, we provide a family here. My goal here is to be a voice for those who are scared," said Sierra.
"We want to focus specifically on mental health because it's draining to be thinking about your status constantly," said Ramos. "Once they finish school, where are they heading? How are they going to be able to work?"
Ramos wants to empower students to recognize their potential and build a career and a life from their education at MSJC.
The Eagle's DREAMers club has launched fundraising initiatives and is collecting donations to fund scholarships for undocumented students. Scholarship funds can help students who are unable to work due to their immigration status to pay for the fees associated with the immigration process.
Dean of Institutional Effectiveness Carlos Tovares attended the anniversary celebration in support of MSJC's undocumented students. Growing up in South Texas, Tovares saw firsthand the plight of the Mexican immigrant community.
"They all are supportive of the effort to support undocumented students," said Tovares of the MSJC administration. As part of this support, MSJC dedicates funding for the EOPS program specifically to undocumented students. An UndocuDREAMer's Affinity Workgroup also exists for staff and faculty who want to become involved.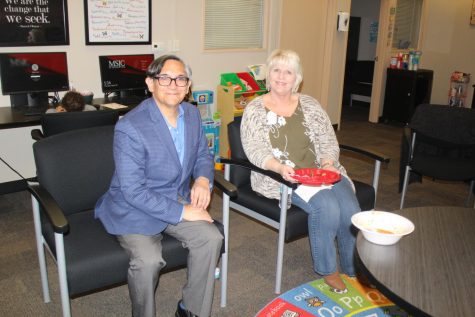 "This is a sacred space, for all of us… we trust each other," said Gerardo Ortiz, an EOPS DREAMers counselor who was formerly undocumented. "What has inspired me is just being able to provide as much resources as I can… always providing that safe space because, you know, this community has been attacked, has been mistrusted, so creating that safe space, that unity is… the core of the dreamer's program."
Ortiz and his son shared their musical talent as they performed on the accordion and guitar. Before working as a counselor, he spent 20 years touring North America and Central America as a Latinx folk music singer.
Children who attended with their families gleefully helped break two piñatas. The event came to a close after games, a raffle with prizes, and many warm words of gratitude for all those who attended and who have helped to build such a strong community over the past year.
Students can look forward to more events from the Eagle's DREAMers Club in the future. 
The Eagle's DREAMers Club meets every other Wednesday on the San Jacinto Campus and online via Zoom at 2 p.m.
For more information, join them on Discord or contact the club directly at [email protected]. 
For more information on MSJC's UndocuDREAMers program, click here.