Creative Writing Club's Second Open Mic Night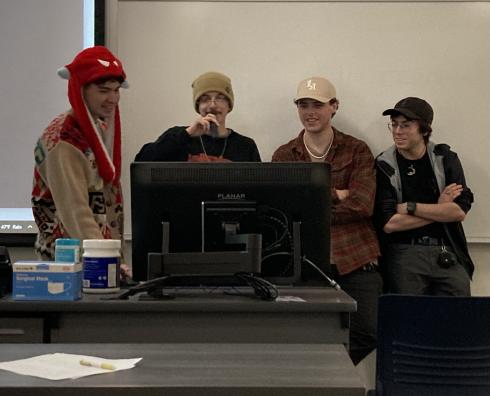 Want to share a song, a poem, a painting, or any artistic idea in general? Come to the Open Mic Nights, presented by Mt. San Jacinto College's Creative Writing Club. In their second Open Mic Night at the Temecula Valley Campus, the Creative Writing Club encouraged people to express themselves and show off their art to an audience of like-minded artists. Anything goes in this event, your creativity is the limit at this recurring event, where students are free to show their talents and tell their stories. Fortunately, I was allowed to report on and see firsthand what goes on at this event.
I was able to interview several members of the Creative Writing Club. The advisor for the club is Susan Winslow, who is also an English professor at MSJC. "I love it. I think it's a great opportunity for students to get together, let loose, have fun, make new friends, and get as creative as they can," said Winslow. 
No doubt about that. From passionate singers and artists to an engaging audience, this event was a lot of fun. It also helped support creativity and push people out of their comfort zones to show their outstanding work.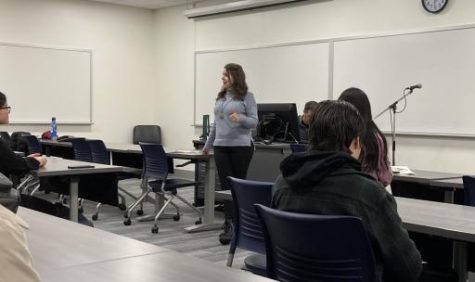 I got to also speak with one of the presenters, Club President Alice Romero, about her favorite aspect of the event. "My favorite aspect was the audience participation, even during times when someone was up. The ending with 'Tequila' for example, where many people got up and the entire room just said it when it was time to say 'Tequila'. That was neat. Of course, being able to share poetry and art is what I value most, like the art they put on the projector," said Romero.
Overall, this was a great experience where people could really creatively express themselves with little to no pressure whatsoever. The Creative Writing Club would like to reiterate that these events are for everyone. Meaning, you can show off whatever you have created or want to share, like ceramics, paintings, songs, sketches, etc. If you are interested in attending Open Mic Night, you can join the event on the third Tuesday of every month. The next one is on April 18, 6 p.m. at the Temecula Valley campus in room 502. Come by and show off what you have made, or see what other people made!