Spider-Man: No Way Home Movie Review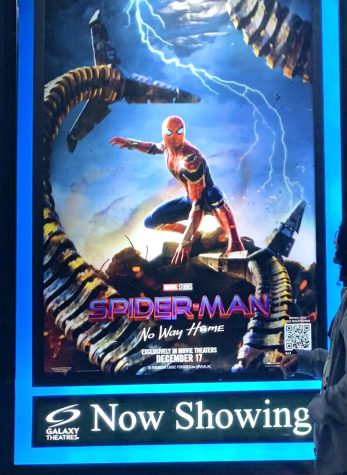 Peter Parker or Spider-Man (Tom Holland) is pretty much America's favorite superhero, right? If you do not already love him, I am positive that this movie will make you change your mind. This movie gives you a whirlwind of emotions; it will make you laugh and cry, and you will be at the edge of your seat the whole time. As a die-hard Marvel fan, I enjoyed Spiderman: No Way Home and think it is a film that everyone would like as well. All in all, this is a film everyone can find enjoyable. The film immediately picks up from the ending of Spider-Man: Far From Home where Mysterio revealed the identity of the man in the red tights. With Spider-Man's identity being leaked, Peter Parker on how it affects his girlfriend, M.J. (Zendaya) and his best friend Ned (Jacob Balaton). The conflict of the story gets introduced when they get declined admission by M.I.T., from the controversy over Peter's identity and all the roles MJ and Ned played in helping Peter in his superhero adventures.  
Peter comes up with a plan and goes to Dr. Strange (Benedict Cumberbatch) to ask if he can cast a spell that makes everyone forget that Peter Parker is Spider-Man. Peter realizes he does not want his family and close friends to forget that he is Spider-Man, so he tries to stop the spell midway which threw everything off. Peter tries to talk to the Director of Admissions of M.I.T., but that was when Green Goblin (Willem Dafoe) and Doc Ock (Alfred Molina) show up.
As the trailers revealed, Marvel used characters and mythology from other cinematic universes of Spider-Man in this current universe. When the villains returned from the other films directed by Sam Raimi and Marc Webb, they did not overcrowd the narrative as much as I thought they were going to. For generations, the iconic line for Spider-Man was, "With great power comes great responsibility,"spoken to him by his Uncle Ben. I feel that this time around for the modern Peter Parker, he is learning what that means. It also helped that Molina and Dafoe came back for their villain roles, which is very wholesome and has come full circle for the audience.
Many modern superhero movies have confronted the idea of what it means to be a superhero, and I feel like this movie in particular shows what it meant. For example, Peter had to grow up and deal with the fame that comes with being Spider-Man and how his actions have a bigger impact than a regular college student. The film subtly asks some questions about empathy for others, an example being when Peter is put into a position of trying to save the villains who tried killing the other versions of him. 
One of my favorite fight scenes was when Spider-Man fought Dr. Strange in the mirror dimension. The scene played with your mind, but it was one of the best scenes. Another personal favorite was the scene where Peter felt the Green Goblin's threat by using his spidey sense. It is impressive how you can hear the transition from Norman Osborn to Green Goblin. This leads to a very intense one on one battle between Peter Parker and Green Goblin, which lead to the unfortunate death of May Parker. This shook the Marvel fandom because of how much she is loved.
Towards the end of the movie, we were finally given a dream come true with the iconic scene of all three past and present Spider-Man actors who showed up together to fight. In the theater, it was a heart-racing experience and one for the books. Marvel certainly left everyone speechless and longing for the next phase of Marvel's future projects. This movie will go down in history as one of Marvel's most successful films and was the perfect ending to the Spider-Man trilogy.