The World Premiere of Esperanza! The Show and a Behind-the-scenes Look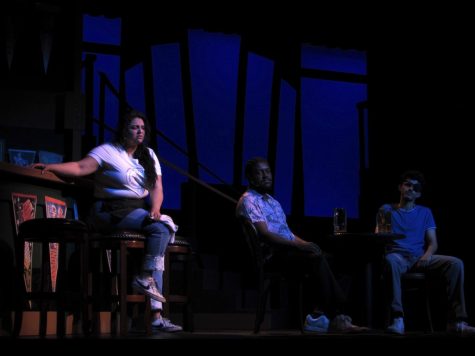 "Esperanza explored the ability to keep adventuring past your 30s. I like how the playwright gave these characters a chance to find life again because as of late people seem to think that once you're 30 it's over, but this story gives those people a chance to find life again," one of the leading actresses, Sylvia Elena Torres stated. This is one of her favorite parts of the play as it is one of the most unique and admirable traits of the musical. Esperanza is a newly produced musical, three years in the making (2020), that premiered at MSJC's San Jacinto Campus. Esperanza was a collaboration between the MSJC Theater Department and Dance Department, to present this musical. As someone who loves theater, I was fortunate to watch the musical and talk to some of the members about their thoughts and adversities while making the musical.
The Esperanza book and lyrics are by Ken Luber and the music is composed by Saverio Rapezzi. This is a story about three characters in their 30s and older reminiscing about their lives as a baseball player, a tennis star, and a former football player, who talk about their former lovers and their youth. It is centered around a sports bar, eagerly waiting for their phone calls, when all of a sudden, random people and those they know would come in, changing their lives as they knew them. From a famous Chilean magazine publisher seeking love to a sports agent inheriting 35 million in cash, anything goes in this bar. With a wide array of characters singing and dancing, this unique play explores the complexity of love and moving forward with hope and happiness.
Overall, the play was exciting and refreshing to see. The writing for these characters was incredibly well-developed, especially with its main characters, giving us an in-depth look into their history and feelings of being shadows of their former glory. Additionally, the main characters danced and sang beautifully, complemented by backup dancers and chorus members. The live musicians also captured every mood and setting for the audience perfectly with the original score.  From the musical numbers, wide and diverse array of characters, its edgy but brilliant humor, and its fearless writing, this was like no other and lived up to the standards of theater. 
It was a one-of-a-kind experience to get to see a play premiere for the first time here at MSJC in the San Jacinto campus Theater. There were very unique and admirable aspects of this play that could not be found in other performances. One of these included ASL interpreters in the front to help reach a wider audience. I asked director Bianca Swan-Finch about it and she said, "I always try to have interpreters in all of the shows I direct because I want everyone to enjoy live theater." 
On top of this, there was a live band. Complemented with dance choreography and singing from the actors, it goes without saying that it was pretty amazing to see these performances perfected in time for their premiere. Bianca Swan-Finch would add that this aspect was a challenge of its own. She said,  "The biggest challenge for us was that there was no reference music, there was no recorded music, we could not go online to see a version of the play, so it was all organic and we created it ourselves. It was a challenge for students learning the music because we had to record all the music for them. Where when we do a published play, there are recordings that are available to us."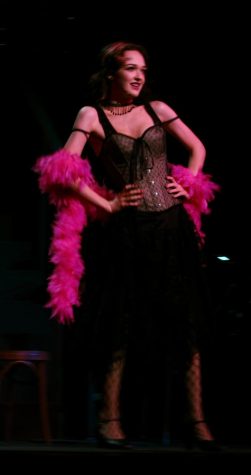 On the note of challenges, the cast members had a lot of work to do before the play. I asked a couple of them to explain some of their trials. From learning 38 songs to learning Spanish, there were a couple of challenges they had to face. Bella Rusin would play two roles in the play as the Femme Fatale, the ghost of lust who haunts the bar, and one of the dancers/chorus members. On top of playing two roles, she would describe her character Femme Fatale as being "out of her range" stating, "For work, I usually play as princesses for birthdays and for children's entertainment. So it was really fun to be given the opportunity to play a new role with a new group of people." 
My final question to the cast was who would they like to thank. A lot of them wanted to thank Bianca Swan-Finch for making the play happen. One of the actors, Stewart Martinez, would say "I want to thank Bianca for the work she did in this show and her guidance was amazing."
Once again, I loved it. Esperanza is an enticing comedic and romantic musical with a deep premise of love and hope. It definitely lives up to those subjects and is definitely a musical worth seeing. Before wrapping this up, I would like to thank the director Bianca Swan-Finch for giving me in-depth detail about what went on in the play and its history, and I would like to thank everyone who let me interview them and talk about their experiences with the play.