Club Rush
Attend, Learn, and Get Involved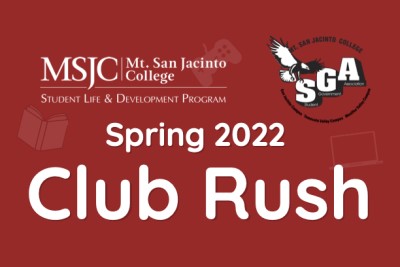 New and returning MSJC students are invited to join the virtual Club Information Sessions happening on Monday, January 31st, 2022. Club Rush provides information on clubs and offers ways students can get more involved and interact with others at MSJC.
There will be two virtual sessions hosted through Zoom that require students to register to receive the link to be able to join the session they would like to attend.
A morning session will be starting at 10:30-11:30am and an evening session from 5:30-6:30pm on Monday, January 31st, 2022.
Current MSJC's active clubs for 2022 are:
– Active Minds
– Art Club
– Film Appreciation Club
– MSJC Chess Club
– MSJC Gaming Club
– M.E.CH.A
– Poetry Club
– Psychology Club
– The Talon Student News
– Women in STEM

For more information on each club and to register for the upcoming virtual sessions of Club Rush, click the link below:
https://msjc.edu/studentgovernmentassociation/msjc-campus-clubs.html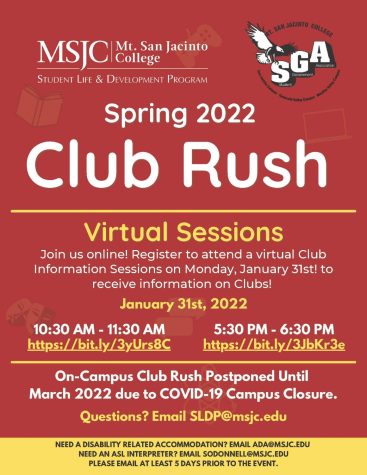 For any further questions about Club Rush, please reach out to Jose Hernandez, ICC Advisor at [email protected] for more details.