Retired Art Professor Returns to College for Exhibition
John Seed at MSJC Art Gallery
Daniel Cabrales, Writer, Photographer, Videographer, Social Media Manager
March 7, 2023
After decades of inspiring students at Mt. San Jacinto College, retired art professor John Seed has returned to campus to showcase his own artwork. Seed's exhibition, titled " Paintings Then and Now," features a collection of his paintings and books, spanning over 40 years.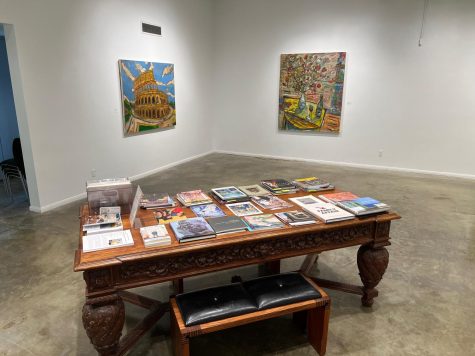 Seed is a well-known figure in the local art community. He studied art at Stanford University and U.C. Berkeley. He explains that he "was shaped by interactions with notable artists including Nathan Oliveira, Jean-Michel Basquiat and Richard Diebenkorn." 
After his retirement, Seed continued to create art, but he shifted his focus from teaching to preserving, creating, and writing his own art. Now years later, Seed has returned to the college that he called home for so many years, to share his art with the community that he loves. His exhibition, which was held in the campus art gallery, showcased a range of styles and techniques, from vibrant paintings to captivating books.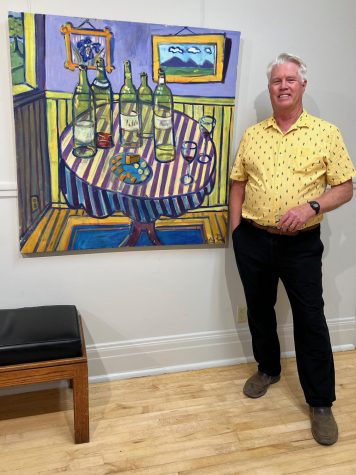 "This exhibition is a collection of John Seed's paintings spanning 40 years and serves as a retrospective of not only his practice as a painter but also as a writer and art historian.  Seed is now an MSJC art professor emeritus. Seed's work as a professor of painting and art history has been instrumental in the education and development of an entire generation of MSJC students and artists, " said John Knuth. Knuth is currently the director of the MSJC art Gallery. Despite retiring from MSJC five years ago, Seed was still able to reconnect with some of his former students at the exhibition. He was also pleased to receive a visit from one of his former students whom he knew in the late 1980s. Additionally, Seed mentioned that many of his friends from the MSJC faculty were still around and attended the opening of his exhibition.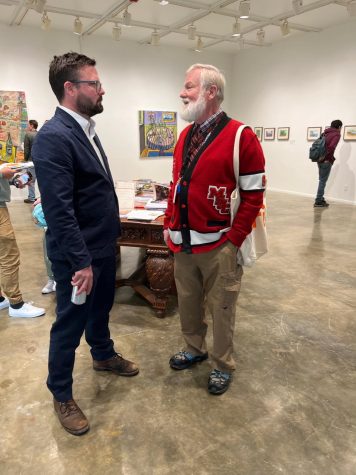 Seed explained that it was a heartening experience for him to see the impact that he had on the school, and to receive their support and appreciation for his artwork. When asked, "what does having this exhibition at the school mean to you? " Seed replied, "It tells me I am still part of MSJC. It was hard to leave after 31 1/2 years of teaching full-time, but John Knuth, the MSJC Gallery Director has let me know through this show that I can be retired and still feel included. It's a great feeling." 
As Seed's exhibition is closed, he looks forward to new projects on the horizon. "I have a new book called 'More Disruption' coming out in the fall of this year," Seed shared. "It features 43 artists and over half are European. The book will feature a strong selection of women artists and artists of color."  For those who missed his exhibition at MSJC, they can look forward to the release of his new book. They can also watch Seed's art talk that he gave via Zoom for the gallery at this link here.
To learn more about Seed and his early years growing up in the art community, you can read Seed's book called " My Art World: Recollections and Other Writings" Available on Amazon.