"Because It's Nice to Have Fun" at the Eagle MakerSpace
In 2018, Mt. San Jacinto College debuted the "Eagle Makerspace." In room 805 at the Menifee campus, the space contains 3D printers, laser cutters, vinyl cutters, engineering tools, desks, computers, and whiteboards provided to help students bring their projects to life.
On April 12, the Menifee Makerspace brought Antoine "Tony" Atallah to teach students about Tinkercad and how to use a 3D printer. For this project, Tony crafted a Spider-Man mask to show how 3D printing can bring cosplay costumes to life.
He used the TinkerCad program where you are provided with basic shapes, an online tutorial, and a space to build and design. As someone who did not know anything about 3D printing prior to the event, I saw how user-friendly the program was with easy-to-understand instructions.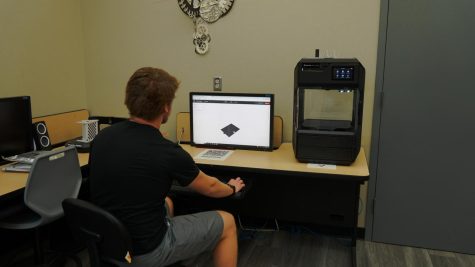 For the event, he showcased the Spider-Man mask which took almost 40 hours to 3D print and paint. Another great feature of the MakerSpace is that you may leave projects to print overnight while the room is closed, which allows students to keep track of their designs and save time. 
I greatly urge students to visit the MakerSpace, at least once, to experience the fun and creativity that flows through the room. MSJC has recently opened a new Eagle AniMakerspace at the San Jacinto campus, in the 100 building, where it contains all the same equipment as the Menifee campus, plus animatronics, large displays for viewing projects, laser cutting/engraving, and machines for sewing and embroidery. If you are unsure of how to use any of the equipment, the instructors for both campuses have a Canvas shell, accessible for anyone who comes in, with all the needed safety manuals, rules for the space, and tutorials. With high-tech equipment and encouraging instructors, the only limit in the Makerspace is your imagination. To learn more and keep updated for future events, go to the MakerSpace website or contact them through: [email protected] or 951-639-5732.