SWANA Club Advocates for Women's Rights
Melissa Luna, Writer/Editor/Outreach Coordinator
May 24, 2023
Mt. San Jacinto College's recently chartered SWANA club, a student-led organization for the Southwest Asian and North African diaspora, held its first meeting on April 28 at the Temecula Valley Campus. Students gathered with faculty and community members to celebrate Arab American Heritage Month. A panel discussion featuring MSJC faculty explored the revolutionary protests in response to human rights violations being inflicted upon women in SWANA communities.
"In the last six months women from the SWANA region, those particularly in Iran, Afghanistan, and Syria have stood up to incredible pressures, and attempts, by governments and groups who worked to make them invisible, disenfranchised, and silent," said Asma Sadegi, MSJC student and president of SWANA. "We felt compelled to engage our MSJC community in a discussion surrounding SWANA women's rights."
The conversation examined the intersectional relationship between politics, education, and human rights, emphasizing the importance of empowering women by securing their rights to bodily autonomy and education.
Protests surged in Iran after the death of 22-year-old Mahsa Jina Amini, who was arrested for wearing her hijab incorrectly while visiting Iran.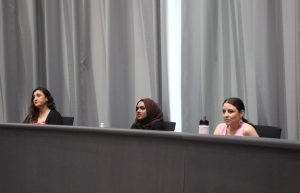 "What was really unique about these protests is that there were folks from all classes of Iranian society coming out to really adamantly say that we are sick and tired of this … we're sick and tired of our young women, our young children being imprisoned and killed," said Bahareh Alaei, an English professor and advisor to SWANA. "Activism in Iran is nothing new for women."
Alaei's mother, who was present at the event, protested the mandatory hijab laws imposed on women after the Iranian Revolution of 1979.
Sadegi shared the story of her cousin, a teenager in Afghanistan, who was recently the highest-scoring student in the country's nationwide exams. Afghan girls in middle school and high school and women have been barred from attending schools and universities.
"What breaks my heart is that now her brother goes to school but she is at home. She is not allowed to go to school," said Sadegi.
"Women, Life, Freedom" is a political slogan that has become closely associated with intensifying protests. People outside of Iran can support the movement by advocating, donating, and amplifying the voices of Iranian women. 
"Look for Iranian voices in social media spaces," said Alaei."The Iranian people are saying very clearly they don't want outside intervention … what they want is for folks to amplify their voices and put pressure on the Islamic Republic … there are plenty of women from the global south, who are speaking, very loudly, under duress and incredibly harsh conditions."
The panel addressed harmful stereotypes about the SWANA community and the religion of Islam, which are being perpetrated by the government of the Islamic Republic of Iran as it uses the Islamic religion to reinforce its power.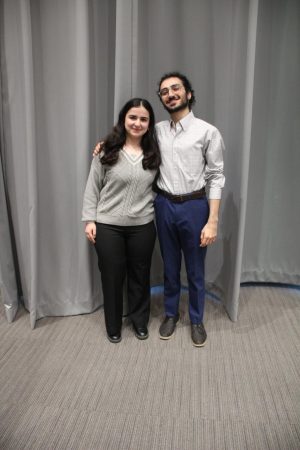 "The majority of Muslims that you meet will be in support of LGBTQIA+ communities and other marginalized communities as well … we do not support forcing women to cover," said Arafiena Bhuiyan, an English professor. "… that isn't a part of the religion at all."
"There's this lens of us as though we're some monolithic entity," said Alaei. "It's such a diverse group of people."
The panel also stressed the importance of staying politically involved and exercising the right to vote. They expressed solidarity toward all minorities who face human rights violations, drawing connections to recent criticism and legislation targeting critical race theory, transgender people, and abortion rights.
"We should never ever assume that this type of thing is not going to happen to us," said Zeynep Akyol-Ataman, a microbiology professor.
"Hearing this perspective and hearing the situation that women and other people are facing … was very insightful to see and hear," said Leonardo Vanegas, former student body president at Southwestern College.
SWANA is a cultural club engaging the communities of Southwest Asia and North Africa with the inclusion of Central Asia and contiguous countries. They seek to encourage these communities to explore and celebrate their cultural identities. Students can connect with like-minded individuals who share cultural similarities. Join them Fridays on Zoom. 
Contact the SWANA club at [email protected].
Visit MSJC library's guide to Women, Life, Freedom for more information and resources.