Florida governor Ron DeSantis officially announced his run for president on a Twitter livestream with Twitter CEO Elon Musk. The stream had a lot of glitches that ultimately took away from DeSantis' big announcement and had a lot of people praising Elon Musk to the point where one would think that Musk was running for president, which is not ideal for DeSantis. Trump has used this disastrous campaign kickoff to his advantage by posting countless memes regarding the blunder. However, despite the jokes that have been made about the disastrous beginning to DeSantis' campaign, he is still Trump's biggest threat for the Republican nomination. 
DeSantis started his political career serving in the House of Representatives, representing North Central Florida. In 2018, DeSantis ran for Governor of Florida and was endorsed by Donald Trump. Trump's endorsement was just the momentum that DeSantis needed as he went on to defeat Democratic nominee Andrew Gillum by just 0.4 percent. DeSantis' name was put on the map as a result of his quickness to end covid-19 restrictions despite the growing number of cases and deaths in Florida at the time. His critics gave him the nickname "DeathSantis" as a result of the growing cases. However, DeSantis was met with praise by one Stanford medical professor.
Early lifts of covid restrictions was only the beginning for DeSantis' rise to prominence. DeSantis' rise would really come to full gear when he engaged in culture war issues. On December 15th, 2021, Governor DeSantis announced a legislation proposal called "Stop the Wrongs to Our Kids and Employees (W.O.K.E.)" Act. A legislation aimed at fighting "woke indoctrination" by expanding upon the ban of Critical Race Theory (CRT) in schools by prohibiting school districts, colleges and universities from hiring "woke CRT" consultants. The bill also aims at "protecting" employees from a "woke" environment at the workplace. DeSantis declared war on woke with this legislation. That legislation however was just the beginning of the culture wars. On March 22nd, 2022, DeSantis signed the "Parental Rights in Education" bill. The bill, which is called the "Don't Say Gay" bill by critics, prohibits schools from teaching kids from kindergarten to 3rd grade about gender identity and sexual orientation. Supporters of the bill say that it gives parents the freedom to decide when it is best for their kid to learn about LGBTQ+ topics. The criticism comes from the fact that the bill does not properly specify what instruction of gender identity and sexual orientation is. What is a gay teacher allowed to say if their 2nd grade student was to ask about their marriage? Can a school get sued because a teacher acknowledged gay or trans existence? These are the concerns people have about the "Parental Rights in Education" bill.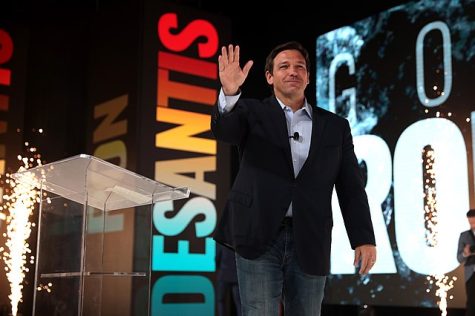 The Walt Disney Company soon supported efforts to strike down the education bill even going as far as to say that the law should never have been enacted. As a result of Disney speaking out against the bill, DeSantis punished them by revoking their status as an "independent special district." This started a war in Florida between Ron DeSantis and Mickey Mouse in the battle of woke. DeSantis' took his obsession with wokeness to new heights by challenging Disney, a move that was met with criticism from some of his Republican colleagues, because it is a contradiction to the Conservative belief of small government. DeSantis' feud with Disney was met with praise by right-wing activists with the belief that Disney has been advocating for "satanism" and someone needed to stand up to them.  Now this feud has turned into a lawsuit with Disney suing DeSantis citing that DeSantis has weaponized his government power to hurt their business. This lawsuit is on-going and DeSantis has no plans on stopping his feud, even if it hurts Florida's economy in the process. 
Story continues below advertisement
DeSantis did not just target the LGBTQ+ community, he also targeted the Black community when Florida rejected an Advanced Placement course on African-American studies, a move that goes a step further than banning Critical Race Theory. This decision was heavily criticized with some saying that DeSantis wants to whitewash history. As a result of DeSantis' attempts to limit race discussions in schools, the NAACP issued a travel advisory in the state of Florida. The travel notice stated, "Florida is openly hostile toward African Americans, people of color and LGBTQ+ individuals. Before traveling to Florida, please understand that the state of Florida devalues and marginalizes the contributions of, and the challenges faced by African Americans and other communities of color." DeSantis himself has called the travel advisory "a total farce."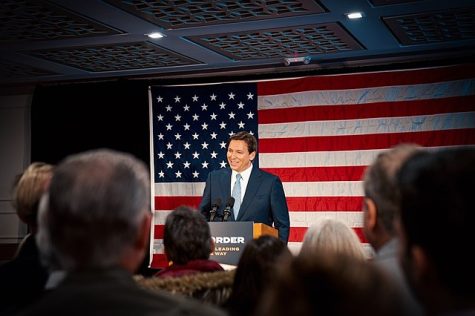 Another tactic that DeSantis has used for combat in the culture wars is the banning of books in schools that his administration has deemed to be too "woke." DeSantis during the Twitter livestream with Musk said, "the whole book ban thing is a hoax. There's not been a single book banned in the state of Florida. You can go buy or use whatever book you want." This claim is false since Florida has banned 566 books since the 2021-2022 school year which is the 2nd most in the nation behind Texas. 
DeSantis is a contender in politics and has garnered a lot of support by the MAGA crowd by incorporating the elements of Trumpism but taking it to another level. According to a recent poll, DeSantis trails Donald Trump by over 30 points, but DeSantis is the only candidate trailing against Trump who is polling in double digits. There is no doubt that DeSantis would easily win the GOP nomination in 2028 and possibly the presidency, but choosing to go against Trump in 2024 is not the wisest decision. However, there is still plenty of time for DeSantis to win over more voters to narrow that gap against Trump. DeSantis has established himself as the face of anti-woke and has described Florida as the place where wokeness goes to die. DeSantis' anti-woke sentiment is what got him in this position and it could be the reason why he wins the presidency.