According to CBS News, Menifee is among the top 10 boomtowns in America. The population is growing faster than many anticipated, and planning a safe and successful street plan is important. Representatives of Menifee held a meeting involving the Complete Streets Plan and invited citizens to attend and express their concerns with certain safety issues regarding streets and the lack of sidewalks around the city and in nearby locations. The meeting was held in Heritage High School, on Briggs Rd from 5 p.m.-7 p.m. The turnout, while small, contained about 15 passionate and involved Menifee citizens and parents. Among the attendees was Leslie Chavez; second-year Heritage High School principal, a teacher and union representative, and Riverside Public Health Representative, Marta Rivas.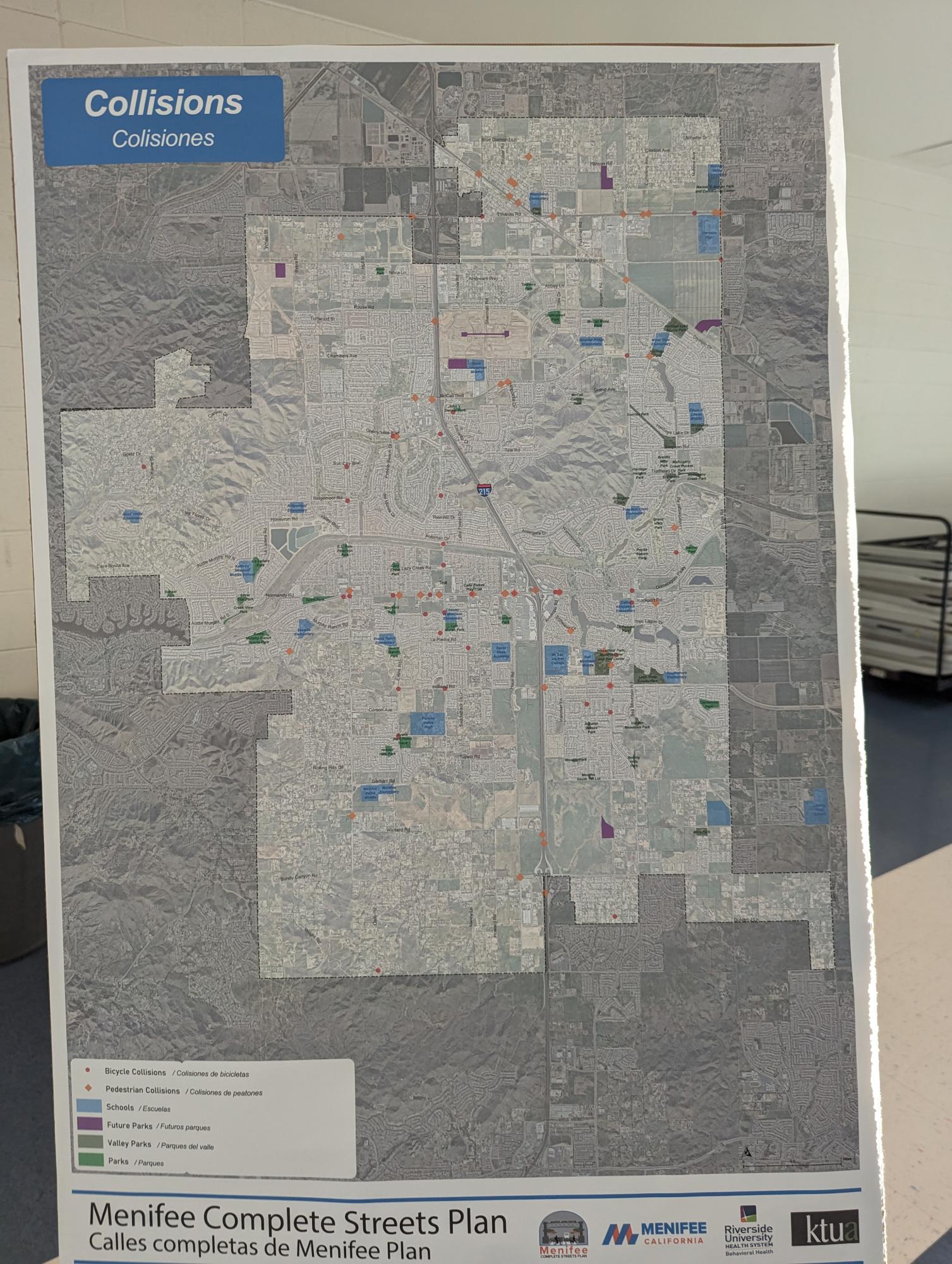 During the meeting, many parents came forward with concerns about their child's safety, transportation, and ability to go to and from school. Many intersections and roads in Menifee are still being completed or construction is being planned. Incidents have already occurred across the 
city with bicycle accidents and children being hit near schools, and many parents are outraged. The School and city representatives made it very clear that they care and are completely open to hearing all concerns and problems each attendee had, especially the parents. Residents were even given a chance to choose projects they wanted to work on immediately by the city using markers on paper maps showing the city limits. Parents did express that school buses, new sidewalks, and safer streets are their main concerns. 
A mother of two at Heritage High School explained her frustrations with the lack of safety around Heritage High School, expressing that many of the streets are not safe for her two sons on their way home. She stressed her need for a safer sidewalk near her home. 
Story continues below advertisement
Janay Harrison, whose son attends Liberty High School as a freshman, pointed out the lack of sidewalks her son needs to walk home safely from school. She expressed fears for his safety, and that she can't rely on the only transportation options she has for long. 
David, a father of a freshman also attending Liberty High School, expressed his worry about the lack of sidewalks in the surrounding areas as well. Explaining that his daughter walks to and from school on a road where the speed limit is 55. With sidewalks missing in certain areas, he also fears for his daughter's safety. There is no public transportation available for his daughter. He also stressed that he has eight years' worth of children attending the high school, and needs this issue fixed immediately. Unfortunately for the parents of students at Liberty, the high school is outside of Menifee's jurisdiction. As explained by the representatives that attended, they cannot repair or build better complete roads near or around that specific high school because it is outside city limits. The school is located in Winchester, so collaboration would have to occur. Jenny McConville, management analyst for the city of Menifee, kindly agreed to sit down for a short interview. When asked about how long sidewalk projects could take in the city she stated, "Typically with a sidewalk it doesn't take too long, as long as it's not impacting certain environmentally protected areas, a sidewalk doesn't take too long, it's getting the funding for that. That's the biggest challenge right now for the city. So, what helps us is these types of events. Getting community engagement, getting the word out there, and having community support. That will really help us put together competitive applications for funding from Cal Trans and other agencies."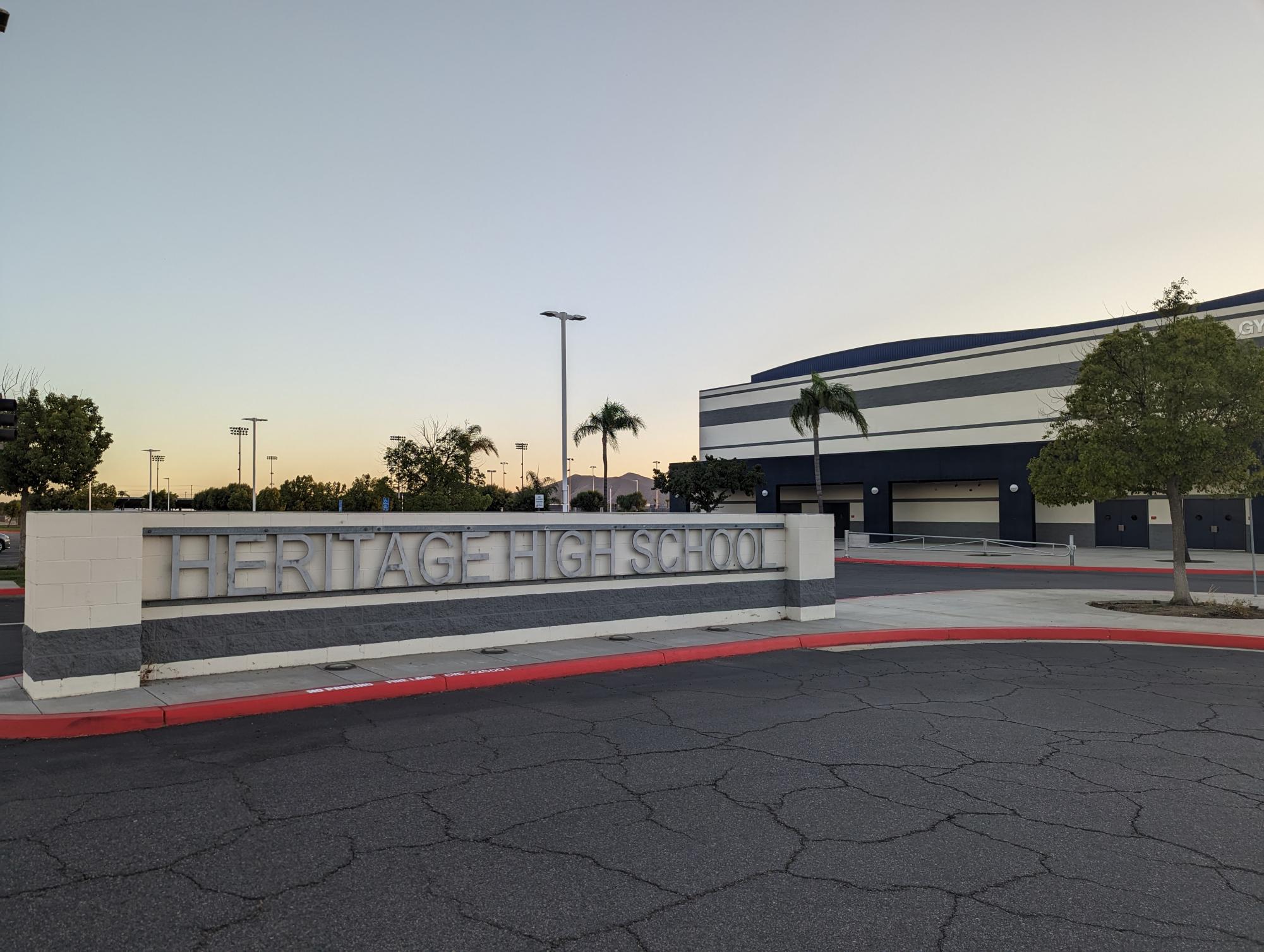 McConville, when asked about how Menifee is dealing with the fast rise in population and how difficult it will be for the city to plan ahead, responded by stating, "We're at a point where we're playing catch up a lot, we're trying to catch up with how quickly the population has grown, so we're doing a lot of plan building right now. That's what the goal is, this is development of the Complete Streets Plan, we also have our city's master plan. We're in the process of developing different plans that will guide all of the development. Future, private, and public development. So that way we can kind of try and create sustainable, long-lasting infrastructure improvements." The Complete Streets Plan, essentially is planning roads that contain equitable access, health benefits, economic benefits, social benefits, and security benefits. They are the ideal model of a safe and strong community. Heritage High School principal,  Leslie Chavez, also expressed her passion for her student's safety stating that when the bell rings thousands of students walk right into traffic, and that worries her. She also wants parents to know that she hears the complaints from them and does her best to address them. Community workers, city representatives, and attendees showed their support and also their enthusiasm, and care for the community. Menifee wants parents' voices to be heard. Menifee is growing fast, but with the help and engagement of the community, it will come out stronger and better than ever. Menifee's city logo says it all, "New. Better, Best."