Jim Fire Burns 500 Acres of the Cleveland National Forest
On Wednesday, Mar. 2, 2022, a brush fire was sparked in the Holy Jim Canyon area of the Cleveland National Forest at around 11:00 a.m.On the day the fire started, it had burned 400 acres by 2:00 p.m. growing to 500 acres by 7:00 p.m. As of Friday morning March 4, 2022, it was 60% contained. Today, the fire is 95% contained.

Over 100 crew members of the Orange Country Fire Authority responded to the spark in order to help the national forest rangers. Other fire agencies, including the Los Angeles Fire Department, sent members to help contain this fire.
The cause of the fire was unknown. There were suspicions that the fire could have been started by a group of Marines from Camp Pendleton who were working on a dam removal operation conducted by the U.S. Forest service. A resident of the forest, Stevie Parker, stated that it was clear to him what started the fire when he heard an explosion.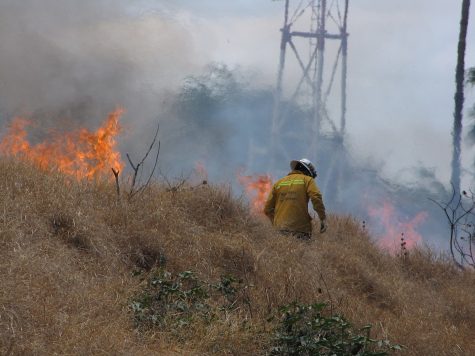 After Parker heard the explosion, he decided to investigate and drove down the hill from his house and was immediately greeted by a convoy of Marines. When he got further down he approached them with a question. 
"'What are you guys doing here? Are you here to help the fire?"' And one of the guys looks at me dead in the eye and says "'No we're back there blowing stuff up,'" Parker said (NBC News).
A Camp Pendleton spokesman confirmed that they did have groups there on Wednesday at around the same time as the fire sparked. Although they did have a crew up there, it will still be up for investigation.
According to an article from the Desert Sun, "There was a crew working in the area yesterday, but the fire is still under investigation," said Nathan Judy, spokesperson for the Cleveland National Forest. "Forest Service law enforcement will be headed into that area to do the investigation."
No homes were threatened and no evacuations were necessary. Fire crews stated there was little fire actively while constructing containment lines. No firefighters were injured, except one man who was stung by a bee late Wednesday but was able to come back Thursday morning.