MSJC Kwanzaa Celebration
On Dec. 8th, 2022, MSJC hosted its Kwanzaa celebration at the MSJC theater. For those who may have never heard of Kwanzaa, it is a week-long cultural holiday that celebrates African-American culture and African heritage from December 26th to January 1st. Each of the seven days of Kwanzaa are dedicated to each of the different principles and each day celebrates one of the seven principles.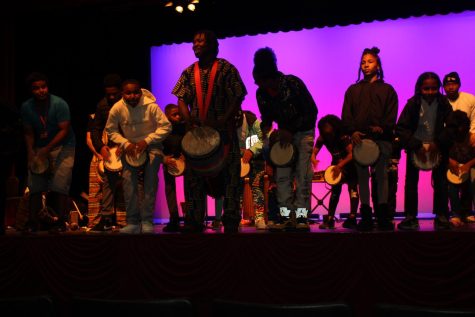 First Principle (December 26th): Umoja or Unity. To strive for and maintain unity in the family, community, nation, and race. 
Second Principle (December 27th): Kujichagulia or Self Determination. To define ourselves, name ourselves, create for ourselves, and speak for ourselves. 
Third Principle (December 28th): Ujima or Collective Work and Responsibility. To build and maintain our community together and make our brothers' and sisters' problems our problems and solve them together. 
Fourth Principle (December 29th): Ujamma or Cooperative Economics. To build and maintain our own stores, shops, and other businesses and to profit from them together. 
Fifth Principle (December 30th): Nia or Purpose. To make our collective vocation the building and developing of our community in order to restore our people to their traditional greatness. 
Sixth Principle (December 31st): Kuumba or Creativity. To always do as much as we can, in the way we can, in order to leave our community more beautiful and beneficial than we inherited it. 
Seventh Principle (January 1st): Imani or Faith. To believe with all our heart in our people, our parents, our teachers, our leaders, and the righteousness in our victory of our struggle.
The beginning of the event took place at the MSJC theater. At the beginning of the event, we were greeted by African drumming and dance with West African drummer Dramane Kone leading the charge, playing his djembe while others played djembes, dununs, and balafons. There were also three dancers on stage doing West African dance. The beat of the drums was astonishing and the dancers were amazing. After the introductory drum and dance performance, we listened to the Black National Anthem performed by Ehmandah Ramsey. Then, there were speeches conducted by Heather Jones, Dr. Von Lawson, and Dr. Pamela Wright. After the speeches, Dramane Kone and his group got back on stage to perform and allowed members of the audience to grab an instrument. I had the privilege of going on the stage and playing the djembe and it was very fun to contribute.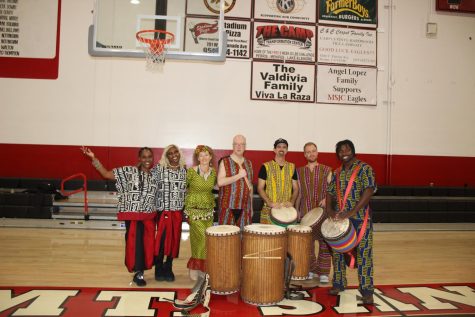 After the performance, we followed them to the gymnasium. In the gymnasium, Dr. Audrey Baca Lopez partook in the lighting of the seven candles and the blessing of the food. There are seven candles, but there are three different colors: three red candles, one black candle, and three green candles. The black candle symbolizes the African people, the red symbolizes their struggle, and the green represents their hope for the future. Additionally,  Kwanzaa is not a religious holiday but a cultural one that celebrates African-American heritage. 
Overall, the whole event was an enjoyable experience. I learned a lot about African culture, had great food, and learned a lot about Kwanzaa. It is always a treat to learn about different cultures.